DONEER EN STEUN ONS WERK
DONATE AND SUPPORT US:
IBAN: NL10 SNSB 0902 6349 33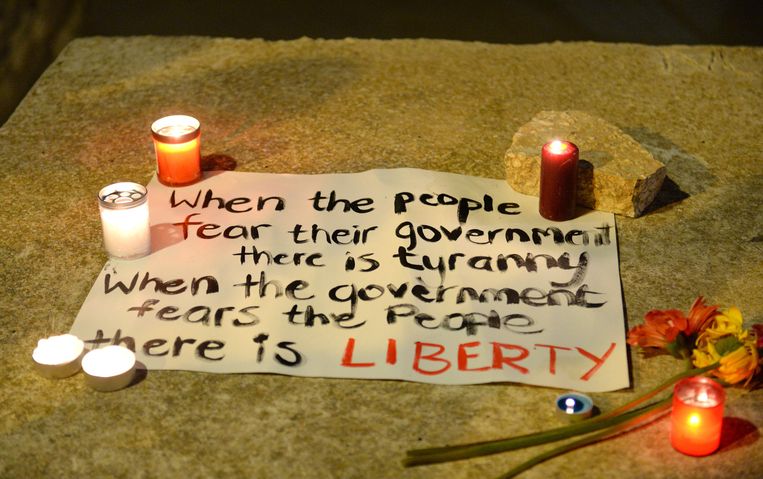 Weten we het nog? De hele politiek en MSM waren verontwaardigheid over de moord op de onderzoeksjournaliste Daphne Caruana Galizia uit Malta, bij verontwaardiging bleef het, de achtergrond en het waarom komt niet meer in het nieuws! Dat is ook niet zo raar, als je goed naar de zaak kijkt, snap je waarom niet, het is te gevaarlijk en er gaan teveel beerputten open!
Drie mannen werden twee weken geleden aangeklaagd wegens de moord op de Maltese onderzoeksjournalist Daphne Caruana Galizia, die op 16 oktober door een autobom werd vermoord.
George en Alfred Degiorgio, 55 en 53 jaar oud en Vincent Muscat, 55, hebben allemaal niet schuldig gepleit. Ze worden ook beschuldigd van het bezitten van materialen en wapens voor het maken van bommen (Bedlam Burning Blogger).
Galizia, journalist van verschillende "hot-item" publicaties, heeft op haar  "Running Commentary"blog op Malta jarenlang verslag gedaan van diverse zaken,  jarenlange corruptie bij verschillende politici en spraakmakende figuren heeft zij onderzocht en gerapporteerd.
Door Politico aangeduid als een "wikileaks-vrouw", had Galizia de reputatie dat zij  meedogenloos belastende informatie over een aantal machtige mensen en criminele activiteiten in Malta had en zij een belangrijke rol speelde bij het blootleggen van de "Panama Papers" en de Centrale rol van Malta in deze belastingparadijzen. Malta heeft het label "Panama in de EU" gekregen en is verschenen op een zwarte lijst gepubliceerd door de EU.
De lijsten van mensen die hinder ondervinden van haar werk zijn niet beperkt tot Malta gebleven.
Haar zoon – die de gruwel ervoer om de verstrooide lichaamsdelen van zijn moeder te vinden na de ontploffing in haar auto – heeft het gehad over de "bende oplichters" die al een tijd Galizia lastig vielen en die volgens hem "een samenzwering organiseerde" samen met politici in Malta en bezig waren zijn moeder financieel te verlammen met de ené rechtszaak na de andere ". Dit zouden ook in Londen gevestigde advocaten zijn geweest, die door deze lieden ingehuurd werden.
Schrijvend op Facebook zei hij: "Ze was ook het doelwit omdat zij de enige persoon was die dat deed. Dit is wat er gebeurt als de staatsinstellingen, politiek en media onbekwaam zijn: de laatste persoon die overblijft, is vaak een journalist (onafhankelijk). Wat zij met de dood moest bekopen, zo gaat dat, wordt je niet monddood gemaakt door bedreigingen, censuur (FB MSM Politiek), dan komt het ultieme middel de dood!
Haar dood doet kennelijk denken aan andere moorden die de afgelopen jaren op journalisten zijn gepleegd, waaronder de moord op Serena Shim.
Ter nagedachtenis aan Serena Shim – de vermoorde journaliste
Het is onnodig om te zeggen dat wanneer een onderzoeksjournalist / blogger/activist wordt gedood door een bom in haar auto, er niet veel  verbeeldingskrachtvoor  nodig is om over te gaan naar complottheorieën. Er zijn ernstige twijfels over het officiële onderzoek (waaronder de FBI) ​​en de conclusies ervan; en er zijn verschillende complottheorieën die moeten worden bekenen!
Eén van de dingen die bijzonder interessant is, is de bewering dat Galizia in de weken voor haar dood de Maltese connecties met brandstofsmokkel uit Libië aan het onderzoeken was. Bij deze diesel-smokkeloperatie zijn Libische handelaars en criminele netwerken betrokken bij de post-Khadafi-falende staat en de Siciliaanse / Italiaanse georganiseerde misdaad. Mensen die betrokken zijn bij het onderzoek naar haar overlijden zeggen dat ze deze operatie onderzocht voorafgaand aan haar moord.
Dit doet ernstig denken aan het "Turkse" verhaal met de gesmokkelde IS olie, uit Syrië en Irak. Sinds de verwoesting van Libië door de VS en EU/NATO, is het vervallen tot een anarchistische staat, waar de door het westen gesponsorde terroristen zoals Al-Queda, Al-Nusra en ISIS, onderhandelen met de EU, zij verkopen olie en gas via Italië door aan de EU landen!
De meeste gesmokkelde ISIS olie gaat naar Turkije,- Verslag uit Noorwegen
Een nieuw uitgelekt rapport over de verkoop van illegale olie  door de Islamitische Staat (IS, voorheen ISIS / ISIL),  opgesteld door Noorwegen.  Uit het rapport is gebleken dat het merendeel van de IS-gesmokkelde olie is bestemd voor Turkije, waar het wordt verkocht tegen bijzondere lage prijzen.
De Noorse dagelijkse krant: "Klassekampen", publiceerde de gelekte details van het rapport, dat werd samengesteld door Rystad Energy, een onafhankelijk olie en gas adviesbureau, op verzoek van het Noorse ministerie van Buitenlandse Zaken.
"Grote hoeveelheden olie werden gesmokkeld over de grens naar Turkije vanuit IS-gecontroleerde gebieden in Syrië en Irak, zei "Klassekampen"in het verslag . Quote: " De olie wordt door tankwagens via smokkelroutes gestuurd over de grens [en] wordt verkocht tegen sterk gereduceerde prijzen, van $ 25 tot $ 45 per vat."
En hier nog een connectie, nu met Nederland:
Koopt Vitol (Nederlands bedrijf) olie van ISIS?
Vitol werd gestart door twee Nederlanders, en u kunt geen informatie over hen dan ook vinden, anders dan de oprichter een:  "Rotterdamse kolenhandelaar Henk Viëtor (1966)" klinkt nogal nep en de naam van hun CEO Ian Taylor,  Brits en blijkbaar de rijkste man in de City van Londen.  Hun hoofdkantoor is gevestigd in Genève. De meeste van deze grote olie bedrijven als Vitol, zijn gevestigd in Genève, Zwitserland. Vitol verkoopt olie in principe van één plaats om het vervolgens te verkopen naar een andere plaats (bedrijf).
Verder met Daphne Caruana Galizia, vreemd genoeg was ze volledig pro voor de Libische interventie van 2011 en was in feite iets van een cheerleader voor de opstand tegen Gaddafi. Uit haar artikelen blijkt duidelijk dat zij de Arabische lente in zowel Syrië als Libië zag als een echte, populaire opstand tegen een dictatuur en niet als een gesteunde proxy oorlog oftwel regime-verandering. Dat is vreemd voor een klokkenluider en onderzoeksjournalist; vooral gezien de rapporten van vermeende Franse geheime agenten die Malta hebben gebruikt als basis om van en naar Libië te gaan in hun clandestiene operaties om de "zogenaamde burgeroorlog" van 2011 in Libië aan te wakkeren.
Malta was ook van cruciaal  belang in de Lockerbie-bomaanslag en speelde een sleutelrol bij het fabriceren van het bewijs tegen Abdelbasset Megrahi – en dus in de jaren van sancties  en het ten val brengen van Gaddafi.
Wordt Aisha Khaddafi de nieuwe leider van Libië?
Leden van de familie Gaddafi  zijn verstrooid en vermoord, sinds de gebeurtenissen van 2011, enkele gedood, sommigen asiel gekregen andere, in de gevangenis, zoals Saadi Gaddafi. Naar aanleiding van de moord op Muammar Gaddafi en de ineenstorting van het Libische volk, is er sprake van een campagne om de naam Gaddafi en invloed uit Libië volledig weg te krijgen, ondanks dat de familie meer dan veertig jaar regeerde in  Libië.
Aisha's broer Saif al-Islam Gaddafi – hoog opgeleid in het westen: In 2011 speelde hij een belangrijke rol bij het neerslaan van de opstand in Libië. Het Internationaal Strafhof in Den Haag (ICC) besloot op 27 juni 2011 een internationaal arrestatiebevel tegen hem, zijn vader en zijn oom Abdullah al-Senussi uit te vaardigen, wegens grootschalig geweld tegen de burgerbevolking.
In juni 2012 liep de spanning tussen Libië en het Strafhof op door de arrestatie van vier ICC-medewerkers die Gaddafi een bezoek kwamen brengen. In augustus 2012 besloten de Libische autoriteiten dat Gaddafi in eigen land zal worden berecht. Hij loopt in Libië de kans de doodstraf opgelegd te krijgen. Op 24 oktober 2013 werd hij in Libië aangeklaagd. Onder meer wordt hij beschuldigd van moord en aanstichting tot verkrachting. Het proces tegen hem begon op 15 april 2014. Omdat hij nog steeds in Zintan (Zintan is een kleine stad in het noordwesten van Libië ca. 136km ten zuidwesten van Tripoli in de Nafusa bergen. In Zintan wordt Saif al-Islam, de tweede zoon van Moammar al-Qadhafi na zijn gevangenneming vastgehouden) werd vastgehouden, verliep de communicatie met de aangeklaagde via een videoverbinding.  Op 28 juli 2015 heeft hij de doodstraf opgelegd gekregen.Op 6 juli 2016 werd bericht dat Gaddafi was vrijgelaten in het kader van een amnestieregeling. 
Conclusie Daphne Caruana Galizia , haar mening over de "Arabische Lente" als je alleen maar naar de gebeurtenissen op straatniveau van de protesten van de Arabische Lente keek – en niet naar wat er achter de schermen of in geopolitieke termen gebeurde – dan zou je, net als zij, inderdaad gemakkelijk tot de conclusie komen dat de "dictators" simpelweg weigerden gehoor te geven aan de wil van het volk.
Hoe dan ook, haar onderzoek naar de huidige brandstofsmokkeloperatie was misschien wel de oorzaak van haar moord.  En de echte vraag is of het officiële onderzoek zelf een doofpotoperatie is of dat het een echte intentie heeft om de ware daders te onthullen en te onthullen.
Bron: https://freesuriyah.wordpress.com/2016/11/20/wordt-aisha-khaddafi-de-nieuwe-leider-van-libie/
Ter nagedachtenis aan Serena Shim – de vermoorde journaliste
Koopt Vitol (Nederlands bedrijf) olie van ISIS?
theburningbloggerofbedlam
De meeste gesmokkelde ISIS olie gaat naar Turkije,- Verslag uit Noorwegen