DONEER EN STEUN ONS WERK
DONATE AND SUPPORT US:
IBAN: NL10 SNSB 0902 6349 33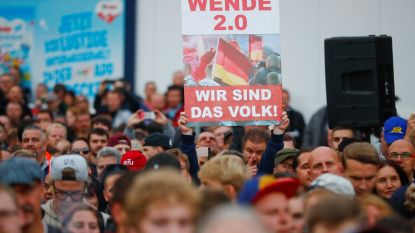 Mijn laatste artikel heeft aardig wat stof doen opwaaien op de sociale media, links, rechts, mensen tegen elkaar. Dit is de truc van de MSM (Main Stream Media) om de éne groep neer te zetten als Neo-Nazi's en de andere als radicaal links (Antifa). Zeker kan ik niet ontkennen dat leden van deze groepen aanwezig waren. Maar om alle demonstranten weg te zetten als behorend tot deze groepen, is totaal absurd!
Zoals ik al schreef in mijn laatste artikel!  De inwoners van Chemnitz hebben tot 1990 en mischien nog wel lang daarna onder (socialistische) omstandigheden in Karl-Marx-Stadt geleefd en gewoond . Zij waren gewend aan het socialisme! Het fenomeen neo-nazisme is te vinden in héél Duitsland en is niet uniek in Oost-Duitsland, zoals de media graag wil beweren, de focus is alleen gericht op het oosten, maar in het westen hebben veel ex-Nazi's hoge functies bekleed in de regering en het bedrijfsleven, zelfs in de EU,alleen was de dekmantel beter, met veel P.R. en zich beroepend op democratie!
Karl-Marx-Stadt (Chemnitz) de opstand is begonnen! 1989 is terug!
In onderstaande video's komen verschillende mensen aan het woord, één ding komt duidelijk naar voren. Het merendeel van de burgers van Chemnitz (Karl-Marx-Stadt) zijn geen Nazi's, het zijn burgers, net als in 1989, die bezorgd zijn om hun stadt, hun land en kinderen. Duitsland is onherkenbaar veranderd sinds 2015, één ieder die met tegen argumenten komt, zou een tijdje in Duitsland moeten gaan wonen, net als ik nu doe! En vertel dan je tegenargumenten en vergeet je linkse of rechtse gedachten, maar kijk gewoon wat er aan de hand is en zie je eigen waarheid!
Zoals ik al schreef, de situatie in de steden is niet meer onder controle van de regering, de financiele (gedeeltijk, er zijn veel Turkse en Libanese, maffia achtige clans in Duitsland met eigen wetten en economie), maar de criminele niet! Er heerst chaos, anarchie, criminaliteit en onveiligheid! Loop maar een dag in Berlijn rond!
Vrouwen kunen s'avonds niet alleen over straat in vele Duitse steden! Dat zegt genoeg. Maar deze waarheden en feiten worden door zogenaamde "linkse politici en "Küschel" burgers (die geen vaak geen idee hebben wat er zich s'avonds op hun straten afspeelt) genegeerd.
Het ECHTE probleem is in versnelde mate begonnen in 2015, toen Merkel de deur wagenwijd openzette voor vluchtelingen (nu spreekt men over immigranten, dat was ook het plan, want Duitsland vergrijst in hoog tempo, net als Nederland) je zet toch ook je huisdeur niet open en laat iedereen binnen, zonder te weten wie het zijn?
Dus daar kom ik weer, ik kan het niet genoeg schrijven, het Soros plan is in werking gezet, "Open Borders Society". De vooropgezette oorlogen in Afghanistan, Irak, Libië en Syrië, de training door CIA/NATO van terroristen in de kampen in Jordanië en in Irak, kamp Bucca (Abu Bakr-al-Baghdadi heeft daar zijn training gehad van de CIA). ISIS gemaakt door het westen, losgelaten in 2015 en nog steeds gesponsord door het westen, deze waarheden komen aan het licht en de regeringen in de EU proberen met alle leugens weg te komen van deze waarheid, wat slecht lukt. De Duitse bevolking in voormalig oost-Duitsland, heeft jarenlang onder het juk van de STASI geleefd en weet wat het is om geen vrijheid te hebben! Nu is hun vrijheid weer beperkt, op een andere manier. 
Zij worden tweederangs burgers in eigen land en zien met lede ogen aan (net als in Zweden) hoe  criminelen ex-huurlingen van het westen, wat zij vluchtelingen (regering) noemen (ex ISIS en brigadeleden) hun land terroriseert. ISIS had aangekondigd, op de stranden van Libië, wij zullen naar Europa komen en ze zijn er sinds 2015. Afgezien van de misschien 20% – 30% echte vluchtelingen, die een hart voor haar/zijn land heeft en moest vluchten voor ISIS.
Deze "echte" vluchtelingen staan nu wederom (denk aan het Yazidi meisje dat weer terug moest vluchten naar Irak) oog in ook met hun vijand in Duitsland en Zweden! Het valt toch op, of zou op moeten vallen, dat er bijna geen Christelijke vluchtelingen te vinden zijn in Europa? Europa heeft hen niet geholpen. Ook Alawieten uit Syrië zijn onder vertegenwoordigd. Gekomen uit Syrië, zijn veel jonge mannen, die niet voor hun moederland wilde vechten en heulden met de VS en NATO om zo hun land kapot te maken (ik zou hen gebruikt willen noemen, voor imperialistische doeleinden)! Libië is kapotgemaakt door de EU en VS, zo ook Irak en Afghanistan, in Jemen (de vergeten oorlog) worden dagelijks kinderen gedood door Amerikaanse en Britse wapens, uitgevoerd wordt deze barbarij door vriend Saoedi Arabië! In veel (bovengenoemde) landen heerst anarchie, armoede en haat tegen het westen, m.n. de VS en EU/NATO. Niet zo gek toch?
Deze haat manifesteert zich nu in Duitsland, Zweden, Frankrijk, VK en ook Nederland, als we de MSM mogen geloven heeft een Afghaan daar twee Amerikanen neergestoken, op Amsterdam CS, gek? Nee kijk wat het westen, de VS en NATO in Afghanistan gedaan hebben en nog doen!
Dit is het probleem, bij de wortel genomen, dat het escaleert in links, rechts, Antifa, Neonazi, is niet gek en misschien net de bedoeling van de "elite". Albert Pike en zijn drie wereldoorlogen is geen fabeltje en geen complottheorie!
http://www.threeworldwars.com/albert-pike.htm
Dus nu hebben de mensen in Oost-Duitsland "de Wende 2.0", uitgeroepen, net als in 1989, zij staan nu op de barricade, tegen de regering Merkel, haar vluchtelingenpolitiek (immigratie politiek is het betere woord) en moeten wederom de straat op in een tijdsbestek van dertig jaar, een "Wende", die doorgezet moet worden, om Duitsland en Europa wakker te schudden (de bevolking slaapt). Revoluties gaan altijd gepaard met geweld en misschien kan deze, ook al is het nog zo'n op niet goede argumenten gerichte opstand, Europa nog enigzins van de "waanzin" van de elite en rechts en linksradicalen redden!
Bron Youtube, Freesuriay, Threeworldwars.com