DONEER EN STEUN ONS WERK
DONATE AND SUPPORT US:
IBAN: NL10 SNSB 0902 6349 33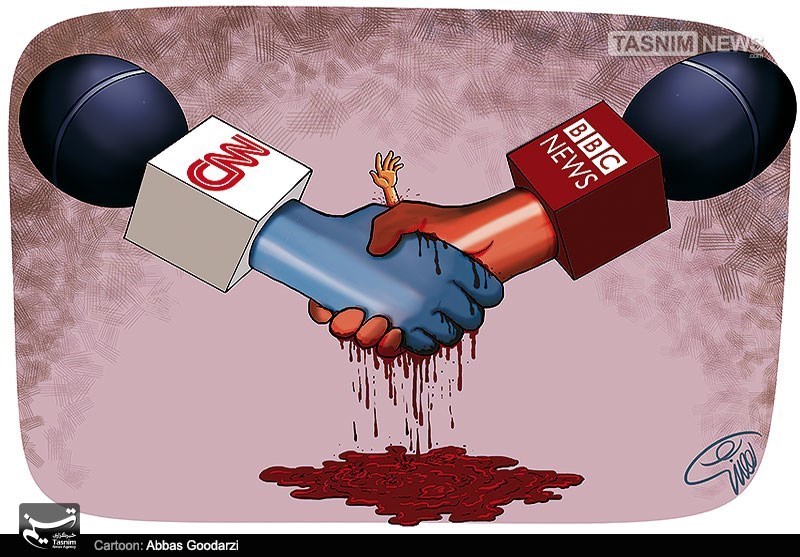 De Russische media hebben een documentaire zo vergeleken met een recente BBC-documentaire getiteld 'Trump: de Kremlin kandidaat ', die een paar weken geleden in het Verenigd Koninkrijk werd uitgezonden (op de staatstelevisie de BBC).
Het 30 minuten oeuvre is een werk van komisch genie en  legt de werkwijze bloot, van hoe schandalig de BBC omgaat met mensen die dus anders denken dan de BBC of de gevestigde orde van elite en politiek, het is beschamende propaganda van een laag niveau!
De beschuldigingen gaan over de inmenging van Poetin in de Amerikaanse verkiezingen, maar laten  de financiële steun onbelicht, die Clinton kreeg van 2 Oekraïense oliegarchen en Saoedi Arabie. Deze "grapjes" mogen niet gemaakt worden.

https://www.youtube.com/watch?v=rMXqgPs34-w
Blijkbaar heeft de regisseur, John Sweeney,  nogal een reputatie om alles te doen voor geld wordt er gezegd, geen leugen is te gek voor hem.
De (Amerikaanse) "onmisbare Anne Applebaum", maakt een volledig voorspelbaar statement, ze klaagt over 'het verliezen van haar slaap – slapeloosheid' over het presidentschap van Trump . 
Anne Applebaum : is een Amerikaanse journaliste, bekend om haar studies en artikelen gewijd aan de geschiedenis van het communisme en aan de ontwikkeling van een burgermaatschappij in Midden- en Oost-Europa. Vanaf 2006 is ze columniste voor en behoort ze tot de hoofdredactie van de Washington Post.
Met haar boek Gulag: a history (2003) over de geschiedenis van de concentratiekampen in de Sovjet-Unie won zij een Pulitzer-prijs in 2004.
Ze leeft met haar echtgenoot, de voormalige Poolse minister van Buitenlandse Zaken Radosław Sikorski, in Polen. Ze hebben twee kinderen.

De  Russische filosoof Alexander Dugin, werd zo boos op Sweeney, dat hij een petitie startte op Facebook, waar hij inmiddels 30.000 volgers heeft , hij noemde Sweeney een 'propagandist', en Dugin riep mensen op de BBC te boycotten met name Sweeney.
De Russische nieuwssite Life.ru deed een diepgaand onderzoek naar Sweeney en zijn collega's, Richard Hill en Nicholas Stardi, ze verzamelde veel materiaal en stellen vast, wat een verschrikkelijk 'journalisten' deze jongens zijn.
Een (beknopte) vertaling volgt hieronder:
De beste indicator van hoe goed de propaganda-afdeling van de BBC haar werk doet: zijn de commentaren bij de video. Ze zijn verwoestende en leugenachtige propaganda:

Terwijl  Trump  op grote schaal belachelijk gemaakt werd door de Amerikaanse media zelf, namen hun Britse collega's  de leiding over in het spelen van de belachelijke informatie over Rusland. De BBC heeft onlangs een documentaire geproduceerd en uitgezonden met  deze beschuldigingen. Life News voerde een eigen onderzoek  uit, om uit te vinden hoe het BBC team tot deze propaganda en beschuldigingen tegen Moskou kwamen.
De BBC zond 2 journalisten naar Moskou, deze werden geholpen door een grote groep Russische journalisten en technici. Sommigen van hen waren freelancers, terwijl anderen  zeer ervaren professionals waren.
Volgens bronnen, van o.a. een cameraman van het BBC team, Yuriy Burak die eerder werkte met Discovery, ABC, National Geographic. Werd de BBC geholpen door een liberale columnist Pavel Greenshpun.
Maar de belangrijkste  "spelers"  waren de twee Britse journalisten, John Sweeney en Richard Hill, gecoördineerd vanuit Londen door Nicholas Stardi – een zeer opmerkelijk persoon. We zullen het hieronder toelichten:
Bij aankomst in Moskou in december 2016, begon het Britse team, Russische experts en nieuwsmakers te interviewen.  De eerste om geïnterviewd te worden was Alexander Dugin, een beroemde Russische filosoof over eurazianisme.
Door hun zeer provocerende vragen (van de BBC journalisten), die hem openlijk  provoceerde, liet hij door zijn  bewakers, de BBC crew uit zijn kantoor gooien. Het incident werd onmiddellijk gelekt naar de sociale netwerken. Op zijn FB-account, zei Dugin zelf dat Sweeny hem gebruikte als een voorbeeld voor de 'nieuwe wereldorde retoriek' geplaatst onder een FB bericht over de campagne van Donald Trump.
Vervolgens vroeg Sweeney,  de leider van de Liberale Democratische Partij (LDPR) Vladimir Zjirinovski hem een paar zogenaamde lessen (informatie) te geven in hoe democratie in Rusland werkt,  die de VS en UK na de moord op Boris Nemtsov zouden willen uitzenden. Dit gebeurde op een openbare plaats, bij het "Moskouse jongeren Paleis". Volgens de LDPR afgevaardigden maakte Zjirinovski hen aan het lachen (de BBC), door Sweeny  eraan te herinneren dathet  Amerikaanse militarisme en interventionisme buiten proporties is. Geen van zijn opmerkingen werden geplaatst.
In een andere poging om de clichés te kunnen bevestigen en zo hun vooroordelen te bevestigen, contacteerden Sweeny en Hill , Konstantin Kosachev, voorzitter van de commissie Buitenlandse Zaken van de Russische Federatie. Hij (Kosachev) was teleurgesteld in hen door te wijzen op de wettigheid van de Russische acties in de Krim en zei dat Rusland niet de agressor was en ook  geen plannen had voor verdere  territoriale expansie.
Om alles zo erg mogelijk te maken, filmde het BBC team alles, wat zij vertelde in de documentaire over de verschrikkelijke Russische staat en zijn almachtige veiligheidsdiensten, met als achtergrond het FSB hoofdkwartier op het Lubyanka plein in het centrum van Moskou.  Begeleid wordt de documentaire door een  sinister klinkende (achtergrond) muziek.
Zowel de Russen en Britten vertelden ons dat zij ernstige twijfelde aan de deskundigheid van Sweeney,  zijn keuzes van deskundigen en zijn manieren en werkwijze. Twee van onze bronnen waren aanwezig bij het gesprek tussen Sweeney en Hill, in hun  kantoor in Londen. Zij vertelde ons dat het interview met Zjirinovski  nutteloos was.  Kosachev werd beschreven als een "puppet" van Poetin en deed net alsof hij niet wist over de connectie van Poetin met Trump en de invloed op de Amerikaanse verkiezing. Dugin werd gezien als een ramp (die alles aan elkaar loog en gebrandmerkt werd als rechts-radicaal).
Uiteindelijk was het Lilia Shevtsova, fellow bij het Britse Royal Institute of International Affairs, in Chatham House, die was uitgenodigd als deskundige. Interessant is, dat haar interview het niet heeft gehaald om in de documentaire te laten zien, hoewel Shevtsova een reeks van beschuldigingen uitte over  'Russische hackers', 'Poetin – Trump connectie', 'onderdrukking van afwijkende meningen door middel van intimidatie en moord'.
Echter de bronnen die aanwezig waren bij het interview verklaarden dit door het feit dat Shevtsova positieve woorden te zeggen had over Vladimir Poetin en ze noemde hem een ​​bekwaam strateeg en een goede manager. Ze zei ook dat 'Russen  zeer goede buitenlandse inlichtingendiensten' hebben. Blijkbaar, volgens onze bronnen, vonden de Britten  het gesprek niet geschikt om in de documentaire te laten zien.
Op de vraag waarom ze dacht dat haar interview  niet werd gebruikt in de documentaire, zei Lilia Shevtsova  dat ze zich niet kon herinneren dat ze werd geïnterviewd door de BBC! Ik weet het echt niet, zei ze, ik doe zoveel interviews!

De derde belangrijke speler in het verhaal – in het team van de BBC in Londen, is de  coördinator Nicholas Stardi. Zoals Life ontdekte had hij een oude Russische haat.  Zijn Oekraïense contacten voorzagen hem van een video van de zaak Adam Osmaev. Deze Adam werd vastgehouden in Oekraïne voor het beramen van een aanslag op Poetin, maar werd vrijgelaten door de (nieuwe) Oekraïense autoriteiten in 2014.
Een anonieme bron bij de BBC in het Moskouse bureau vertelde ons dat al op 11 januari j.l.,  Stardi  gesprekken had met de onderzoek redacteur van Novay Gazeta: Sergey Kanev en de vertegenwoordiger van het BBC Moskou bureau, Olga Ivshina, met  betrekking tot een rapport van een ongeïdentificeerde MI6 agent, die wees op een connectie van Trump met de Russische inlichtingendienst.
Het Stardi en Sweeny-Hill team beraamde in december al de belachelijke en valse aantijgingen over het Trump schandaal in het Moskouse hotel met prostituees, gecoördineerd door hen. Let wel, het was in December 2016- ruim voordat BuzzFeed het openbaar maakte!
De BBC wist dus, ruim van tevoren dat een komend lek  werd voorbereid . Als dat inderdaad zo is, is het een in elkaar gezette  provocatie door de veiligheidsdiensten van de VS en Groot-Brittannië, om de legitimiteit van de (aankomend) Amerikaanse president verkiezingen te ondermijnen.
Russische politieke analist Dmitry Drobnitsky zei:
– "Ik verwachtte veel meer van de BBC. De documentaire is het zoveelste bewijs van de nieuwe dieptepunten van de westerse media , ze zijn laag gezonken, met als hoogtepunt het jaar 2016. Ze zijn bang voor verandering, ze zijn bang voor het uit elkaar vallen van het globalistische project. Hun journalistieke onderzoeken zijn een scam en fake, zegt Drobnitsky.
"De video is een 100% propaganda, maar de boodschap is transparant -. Trump is ofwel een zogenaamde nuttige idioot, of een deel van de wereldwijde maffia samen met de Russen en Poetin"
Dit is de reden waarom de film werd gemaakt, zegt hij.
Bron: Russia Insider, BBC, Youtube