DONEER EN STEUN ONS WERK
DONATE AND SUPPORT US:
IBAN: NL10 SNSB 0902 6349 33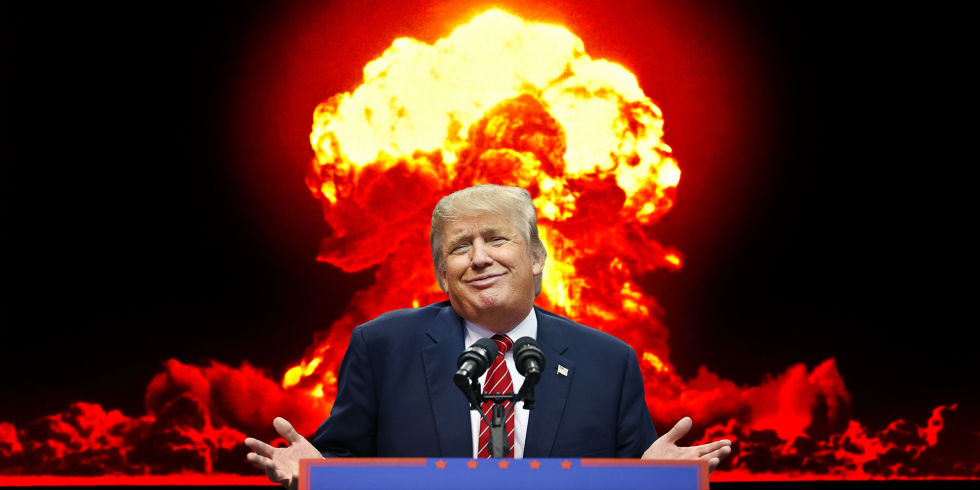 Waarom opeens Jeruzalem? Omdat Jeruzalem de "natte"droom is van elke zionist en fundamentalistische Christen.
Sinds de Zionisten weg zijn van hun ideaal, n.l. een socialistische Israël te creëren, omarmen ze het fundamentalistische Orthodoxe Joodse geloof, zoals ik al eerder schreef, anti-semitisme is een uitvinding van deze fundementalisten, ik zal ze Joodse Fundamentalistische Zionisten noemen, maar ook propaganda van westerse staten en media! Je mag deze Joodse Fundamentalisten niet op één hoop gooien met de "echte" praktiserende joden, die zijn tegen de staat Israël en je kunt ze vaak zien demonstreren in New York, maar ook in andere westerse landen, ze weigeren om in de Zionistische staat Israël te wonen!
Ik was zelf afgelopen februari in Iran, een conferentie over Palestina, waar vele Orthodoxe Joden aanwezig waren om de staat Israël te beschuldigen als zijnde een "apartheid en criminele staat".
Israël is niet veel beter dan Saoedi Arabië op het gebied van fundamentalisme, weliswaar in een andere vorm, naar buiten niet zo gewelddadig, maar noem je 70 jaar van Palestijnse onderukking vredelievend?
Daarom zijn deze 2 landen ook "goede vrienden" en zal er zolang deze alliantie, samen met de VS, blijft er nooit vrede komt!
Dit wat de huidige trend is in de VS en overgeslagen naar het westen
Vóór de komende Joodse tempel – Jeruzalem
De wederopbouw van een Joodse tempel op de Tempelberg in Jeruzalem is een hoeksteen van de eindtijdprofetie en daarom is de recente aankondiging door Donald Trump om Jeruzalem officieel te erkennen als de hoofdstad van Israël een ongelooflijke stap voorwaarts in de komende profetische fase van Jeruzalem. in de eindtijd. Dit is wat religeuze Joden en Christenen geloven, mooi voor hen, maar slecht voor de vrede! Al jaren propberen archeologen bewijs te vinden van de laatste tempel van Salomon, zonder succes! Maar twee-derde van de Israëlische bevolking gelooft in hun religie het jodendom, dat deze tempel stond waar nu de Al-Qasa moskee staat en daar begint het gedonder en heb je een onderdeel van het 70-jarige conflict, haal er nog de Christenen bij, hun heiligdom is "de heilige graf kerk", ook in Jeruzalem en als klap op de vuurpijl komen Jezus, de joodse messias en Mohammed allemaal terug op de olijfberg, wordt druk en een moeilijke situatie!
Maar goed laat een ieder zijn geloof, alleen krijg je gigantische conflicten, als een ieder het alleenrecht claimt en daarbij nog "landje-pik", dan heb je dus oorlog!
Het is belangrijk om te onthouden dat de Trumps-agenda voor Israël duidelijk werd uiteengezet in een toespraak die hij gaf aan de American Israel Public Affairs Committee (AIPAC).
Het volgende gevaar schuilt in Iran, luister goed naar de video en je hoort zijn uitspraken en je kan zeggen van Trump wat je wil, maar hij komt zijn belofte na. Helaas in dit geval loemt er een groot gevaar voor een nieuwe oorlog met Iran!
Verder gaat hij in op het "zogenaamde"geld wat terroristen krijgen van Hamas. Terroristen zijn volgens mij iets ander dan "vrijheidstrijders", zij strijden immers voor hun land Palestina,  zijn ze radicaal? Ja misschien wordt je radicaal als Israël je al 70 jaar onderdrukt, zonder goede economie en levensomstandigheden, werk, wordt de jeugd radicaal, kijk maar naar Nederland. Radicaal zijn ook de Joodse fundamentalistische Zionisten en fundamentalistische Christenen die mensen niet toestaan ander te geloven of met hen land te delen!
Deel toespraak"vertaald":
In een langverwachte toespraak op de AIPAC-beleidsconferentie in 2016, herhaalde de toen Republikeinse presidentskandidaat Donald Trump zijn steun aan Israël, terwijl hij beloofde door te gaan met zijn verkiezing tot president.
Trump merkte op dat hij een levenslange supporter van de staat Israël is en merkte op dat, hoewel hij een nieuwkomer in de politiek was, "ik niet nieuw ben om de Joodse staat te ondersteunen". Hij prees zijn pro-Israëlische geloofsbrieven en merkte op hoe hij de Salute Israel-parade leidde in 2004. "Het was een gevaarlijke tijd voor Israël en eerlijk gezegd voor velen die Israël steunden … Ik nam het risico en ik ben blij dat ik het gedaan heb", zei hij. "Maar ik ben niet naar je toe gekomen om over Israël te praten – dat is wat een politicus doet: praten en geen actie ondernemen. "Ik kwam om je te vertellen waar ik sta over de toekomst van de relatie van Amerika met onze strategische bondgenoot en culturele broer, de staat Israël." Trump verklaarde dat zijn nummer één prioriteit is om de rampzalige deal met Iran te ontmantelen. "Deze deal is catastrofaal, voor Amerika, voor Israël en voor het hele Midden-Oosten.
Eind 2001, weken na de aanslagen op New York City en Washington – aanslagen gepleegd door islamitische fundamentalisten, bezocht burgemeester Giuliani Israël om solidariteit te tonen met slachtoffers van terreur. Ik stuurde hem in mijn vliegtuig omdat ik de missie 100% ondersteunde. In het voorjaar van 2004, op het hoogtepunt van het geweld in de Gazastrook, was ik als grootmaarschalk bij  de 40e Salute to Israel Parade, de grootste afzonderlijke bijeenkomst ter ondersteuning van de Joodse staat. Het was een zeer gevaarlijke tijd voor Israël en eerlijk gezegd voor iedereen die Israël steunde – veel mensen wezen deze eer af – dat deed ik niet, ik nam het risico. Ik ben hier vanavond niet gekomen om je over Israël te vertellen. Dat is wat politici doen: allemaal praten, geen actie ondernemen. Ik kwam hier om met je te praten over waar ik sta over de toekomst van de Amerikaanse betrekkingen met onze strategische bondgenoot, onze onbreekbare vriendschap en onze culturele broer, de enige democratie in het Midden-Oosten, de staat Israël. Mijn eerste prioriteit is om de rampzalige deal met Iran te ontmantelen. Ik heb een lange tijd in het bedrijfsleven gestaan. Ik ken het maken van deals en laat me je vertellen, deze deal is catastrofaal – voor Amerika, voor Israël en voor het hele Midden-Oosten.
Het probleem hier is fundamenteel. We hebben 's werelds toonaangevende staatssponsor van terreur beloond met $ 150 miljard en we hebben absoluut niets terug ontvangen. Ik heb dit onderwerp gedetailleerder bestudeerd dan bijna iedereen. De grootste zorg met de deal is dat het niet noodzakelijk is dat Iran het gaat schenden, hoewel dat al het geval is, des te groter het probleem is dat ze zich aan de voorwaarden moeten kunnen houden en toch bij de bom kunnen komen door simpelweg hun tijd af te wachten, natuurlijk,  houden ze hun miljarden. De deal vereist zelfs niet dat Iran zijn militaire nucleaire vermogen ontmantelt! Ja, het beperkt zijn militaire nucleaire programma slechts voor een beperkt aantal jaren. Maar wanneer die beperkingen komen te vervallen, zal Iran over een industriële nucleaire capaciteit op militair niveau beschikken die klaar is om te gaan, en zonder enige vertraging te voorzien, hoe slecht het gedrag van Iran ook is.
Als ik voorzitter ben, zal ik een strategie aannemen die zich op drie dingen concentreert als het om Iran gaat. Ten eerste zullen we Iran's agressieve aanpak weerstaan ​​om de regio te destabiliseren en te domineren. Iran is een groot probleem en zal dat ook blijven, maar als ik tot president word gekozen, weet ik hoe ik met problemen moet omgaan. Iran is een probleem in Irak, een probleem in Syrië, een probleem in Libanon, een probleem in Jemen, en zal een zeer groot probleem voor Saoedi-Arabië zijn. Letterlijk elke dag biedt Iran meer en betere wapens aan hun marionetten. Hezbollah in Libanon heeft geavanceerde anti-scheepswapens, luchtafweerwapens en GPS-systemen op raketten ontvangen. Nu proberen ze in Syrië een nieuw front tegen Israël te vestigen van de Syrische kant van de Golanhoogte. In Gaza steunt Iran Hamas en de Islamitische Jihad – en op de Westelijke Jordaanoever bieden ze openlijk Palestijnen 7000 dollar per terreuraanslag en 30.000 dollar voor elk vernietigd Palestijns terroristenhuis.
Iran financiert militaire strijdkrachten in het hele Midden-Oosten en het is absoluut onverdedigbaar dat we hen meer dan $ 150 miljard hebben gegeven om nog meer terreurdaden mogelijk te maken.
Deze woorden moeten niet als politieke prietpraat lichtzinnig genomen worden. Hij gaat het doen, hij gaat een oorlog ontketenen met Iran (oook met Noord-Korea, maar dat is een ander verhaal met China). Hij is zogezegd een onderdeel van de "deep state", maar leidde ons allen om de tuin, of hebben we gewoon niet goed opgelet, toen het over Israël ging?
Het erkennen van Jeruzalem is slechts het begin van de grote "catastrophe"die hij gaat ontketen in de wereld!
Bron: .globalwatchweekly, Youtube