DONEER EN STEUN ONS WERK
DONATE AND SUPPORT US:
IBAN: NL10 SNSB 0902 6349 33
Afrin, vervoverd door Turkije en haar helpers de terroristen die zichzelf FSA (Free Syrian Army) noemen, een deel van deze terroristen is in 2015 al gevlucht naar Duitsland met de grote stroom mee (ook Nederland) en sympatiseert met het zogenaamde FSA, deze groepen staan nu tegenover elkaar in Hannover, Salzgitter, Berlijn etc..
Waarschijnlijk heeft niemand het in Nederland door, maar er is een angstaanjagende stratenoorlog bezig in vele Duitse steden, m.n. Berlijn, Hannover en vooral een voor vele Nederlanders onbekende plek Salzgitter.
Salzgitter, waar van oudsher al vele Turken en Koerden hun toevlucht gevonden hebben, kregen er in 2015 nog eens vele asielzoekers uit Syrië (waarvan velen geen Syriërs zijn, maar aangereisd op gestolen Syrische paspoorten, gestolen door IS en andere brigades uit Syrische overheidgebouwen in 2014-2015). Onder deze asielzoekers zijn vele ex-strijders van IS of andere groeperingen zoals Jahbat-al-Nusra en Al-Queda. Deze ex-strijders hebben samen of i.o.v. gevochten tegen Syriërs (SAA) en natuurlijk Koerden. Dus je voelt hem al aankomen, de situatie is hoog explosief zoniet een echte oorlogszone in Salzgitter. Het plaatsje Salzgitter, heeft meer asielzoekers, nu inmiddels statushouders en gefinancierd door de Duitse regering dan inheemse Duitse inwoners. Deze Duitse inwoners, m.n. vrouwen worden op straat geschoffeerd door deze "zielige" asielzoekers, ik zou ze de huurlingen van het westen noemen, niet meer nodig in Syrië en Irak, nu de oorlog verloren is!
Het Duitse Bundesministerie heeft onlangs de vlag van de YPG (Koerdische verzet, gesponsord door de VS en EU-NATO om zogenaamd Raqqa te bevrijden, lees verwoesten) verboden en een ieder die hem op FB zet krijgt een grote boete, de Koerden zijn weer de vijand van de EU nadat ze het vuile werk in Raqqa hebben opgeknapt. Duitse Leopardtanks zijn in het verleden aan de Koerden verkocht en onlangs weer aan Turkije, toen Sigmar Gabriel ex-minister van buitenlandse zaken (SPD) de Turkse minister van buitenlandse zaken Cavusoglu afgelopen januari 2018 elkaar in Goslar, Harz troffen, heeft Sigmar weer nieuwe kadootjes gegeven een paar extra tanks erbij voor Turkije als toenaderingspoging.
In Syrië staan nu Koerden en Turken tegenover elkaar en schieten elkaar af met Leopardtanks en ander wapentuig uit Duitsland, terwijl het Duitse leger een tekort aan alles heeft!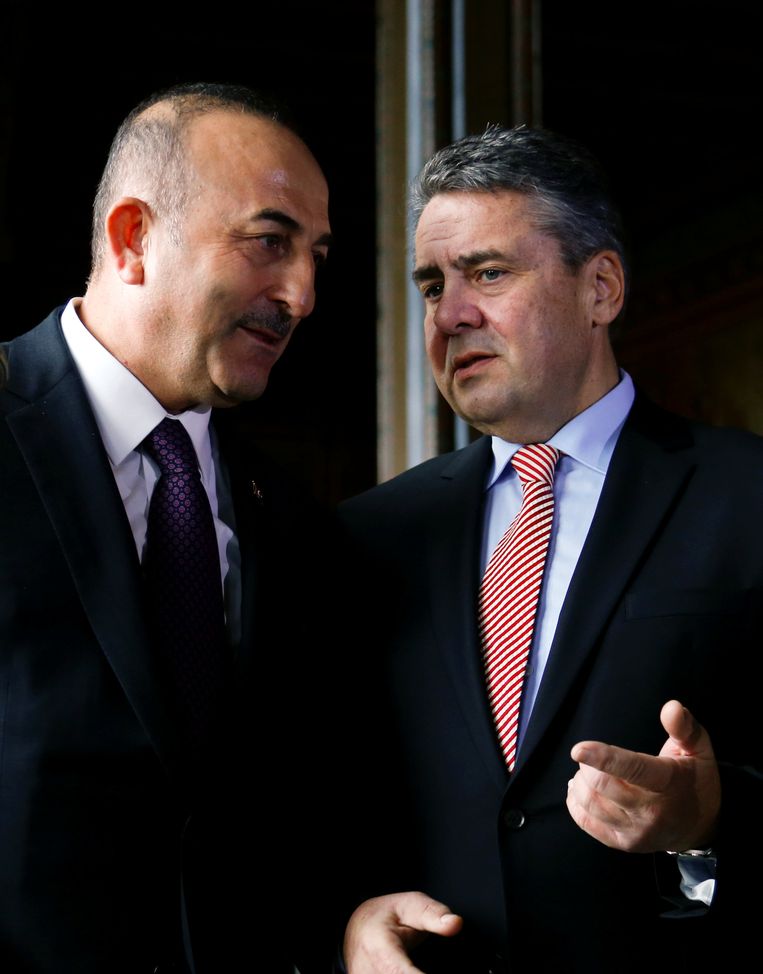 Een bericht uit 2017: Ook in steden en gemeentes van de deelstaat Niedersachsen spitst de situatie met het oog op de massa´s vluchtelingen zich steeds verder toe, zoals in Salzgitter. De burgemeester daar, Frank Klingebiel (CDU), eist nu de beperking van het fundamentele recht op eigendom. Wat in duidelijke taal betekent: eigenaars van leegstaande woningen dienen "tijdelijk" onteigend te worden.
https://www.youtube.com/watch?v=EdrQD9to4CA
Recent bericht op NRD:
Salzgitter's probleem met de Syriërs
Er zijn nu 5000 vluchtelingen (onofficeel, het zijn er duizenden meer) met het recht om in Salzgitter te verblijven – 3.300 van hen uit Syrië. Hoewel de stad een magische aantrekkingskracht lijkt te hebben voor diegenen die hulp zoeken, bereikt Salzgitter de limiet van zijn capaciteit.  Frank Klingebiel  burgemeester (CDU), schreef premier Stephan Weil (SPD) een brief en vroeg een ontmoeting om hem te spreken. Het resultaat: financiële hulp van het land. Hoe hoog – dat is nog niet duidelijk. Daarnaast wil men heroverwegen in Hannover, de zogenaamde Wohnsitzauflage, dat wil zeggen de toewijzing van plaatsen  opnieuw te herzien. Tot dusverre heeft het land dit afgewezen. Terwijl het woord 'gettovorming' circuleert, bekritiseren zogenaamde vluchtelingenadviesraden en sociale experts het idee om vluchtelingen te dwingen in Hannover te leven.
Dus deze problemen heeft Duitsland, eraan toevoegend de vele Koerden en Turken die er al decennia lang wonen, nu het "Syrische" probleem zich toespitst en Erdogan zich voorgenomen heeft alle Koerden in Afrin uit te moorden of te verjagen, is er een regelrechte oorlog aan de gang in Duitsland.
Het begon al op 22 januari 2018, een ware veldslacht op de luchthaven Hannover, waar ik toevallig was die dag om naar Boekarest te vliegen!
Dat was het begin, nu is de politie machteloos en durft bepaalde wijken in Hannover, Salzgitter en Berlijn niet meer in!
De verknipte en misdadige standpunten van Duitsland en de rest van vele EU landen zorgt nu voor onrust en sommige (Duitse) journalisten en politicologen zijn bang voor een burgeroorlog in Duitsland!
Bron: NRD, Hannover luchthaven, Salzgitter Zeitung, Goslar, Youtube