DONEER EN STEUN ONS WERK
DONATE AND SUPPORT US:
IBAN: NL10 SNSB 0902 6349 33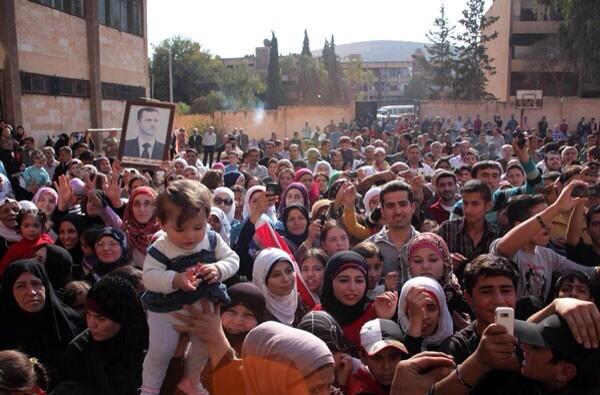 Eindelijk, is Aleppo vrij, vrij van jihadisten, of zoals de Nederlandse media en de politiek het noemen: het verlies van rebellen.
Ik schaam me voor de Nederlandse regering en media, die rebellen  steunen, die eigenlijk islamisten zijn, ik schaam me om het te moeten uit leggen, toen ik in Syrië was, dat een vrij en westers land als Nederland, waar homorechten, andersdenkende en zelfs een partij van de dieren bestaat , sinds 6 jaar jihadisten steunt!  Jihadisten die een godsdienst, noem het liever een indoctrinatie "sekte", aanhangen, die zo een vrouw/homo/andersdenkenden, ideologie aanhangen, geld ontvangen van de Nederlandse belastingbetaler, miljoenen is er uitgegeven aan zogenaamde burgerjournalisten, Witte Helmen, oorlogstuig, bommen  en ga maar door!
Ik heb, samen met vele andere activisten en journalisten vanuit de hele wereld, vrije mensen, zonder en met geloof, gestreden voor een "vrij Syrië", het land dat ik 20 jaar ken en waar ik vele maanden, dagen, uren heb doorgebracht, met allerlei groepen en geloven, het vrije Syrië. Vorig jaar nog, was ik in Syrië – 2015, heb vele politici en journalisten en zogenaamde islam deskundigen gevraagd om mee te gaan, elk ander westers land heeft een delegatie gestuurd van kamerleden en journalisten om Syrië te bezoeken.  Frankrijk was het eerste land, de oppositie en kamerleden.
Maar vanuit Nederland  was er maar  één politieke partij de NCPN, helaas een kleine splinterpartij die geen zetels heeft. Weer schande van de grote politieke partijen die op oorlogspad zijn.
Uiteindelijk heb ik een delegatie, samen met Comité Syrian Nederland (niet te verwarren met het Syrische comité) een Belgische delegatie samen gesteld. Nederland liet het dus afweten, zoals altijd! Van links tot rechts van seculier tot christelijk, terwijl er zoveel christenen uitgemoord zijn, niet te vergeten Pater Frans van der Lugt, vermoord door jihadisten, een Nederlandse pater nota bene! De politiek hield zogenaamd een herdenking bijeenkomst in een Haagse kerk, voor Frans, wij waren natuurlijk niet uitgenodigd, maar ik denk dat Pater Frans niet blij zou zijn met de  hypocrisie van de politiek, hijzelf leefde in armoedige omstandigheden in Homs, 40 jaar en zorgde voor de armen in Syrië. Niet één krant, kamerlid heeft het lef gehad om te gaan naar Syrië!
Pater Maas van Mar Yakub en Pater Frans van der Lugt werkend in Homs.
Sinds President Bashar al Assad gekomen is in 2000, is het land "modern" geworden, vrij voor ieder geloof, alleen niet voor jihadisten, die delen van het land kapot gemaakt hebben. Door het westen als zogenaamde rebellen aangezien werden en nog steeds. Waarom vragen wij ons waarom? Een westers land als Nederland die moslimfundamentalisten steunt?
Er blijft na 6 jaar alleen maar de conclusie: dat het echt een "regime change" scenario was, gestuurd vanuit de VS, met steun van de EU/NATO was, voor olie en gas belangen. Mensenrechten hebben hier geen rol gespeeld. De burgers van Nederland is dit alles wijs gemaakt. Schande Nederlandse regering en zogenaamde "vrije pers", schande om geen onderzoek te doen en zo achter oorlogen te staan die vele mensen de dood ingejaagd hebben!
Nu is Aleppo vrij, er ligt nog een strijd voor ons, voor andere delen van Syrië. Ik zal blijven rapporteren vanuit Nederland de EU en Syrië. De waarheid moet verspreid worden. De waarheid die onbetaald is, wij activisten en journalisten zijn verguisd en treden geheel vrijwillig op zonder betaling van "grote kranten" en zonder politieke steun. Wij zijn echt onafhankelijk. Sommige zeggen dat wij de kant van  Assad en Poetin gekozen hebben. Inderdaad, dat hebben velen van ons. Omdat, het onrecht zo groot is, wat wij zien en horen elke dag, de vele verliezen die we zelf hebben. Wij kiezen voor de waarheid, de eerlijkheid en de Syrisch mensen. De hulp van Rusland en de standvastigheid van Assad en zullen dit blijven doen , in naam van gerechtigheid en waarheid!