DONEER EN STEUN ONS WERK
DONATE AND SUPPORT US:
IBAN: NL10 SNSB 0902 6349 33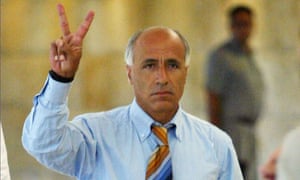 Onlangs kwam ik in contact met Mordechai Vanunu, de klokkenluider van de vorige eeuw. Er wordt door de "reguliere press", niet heel veel aandacht meer aan zijn zaak besteed, maar zijn zaak is nog steeds actueel.
Na zijn vrijlating, belemmert de Israëlische regering hem nog steeds om uit te reizen naar Noorwegen (waar hij trouwde in 2015). Echter de Israëlische regering verhinderde dit en nu woont hij, onder huisarrest in oost-Jeruzalem.  Hij wacht op een nieuw vonnis, dat a.s. 22 december zal worden uitgesproken, ik zal daarvan berichten!
Even wat  geschiedenis over Mordechai Vanunu:
Hij is een Israëlisch voormalig nucleair technicus die in 1985 gevarieerde informatie over het kerninstituut in Dimona bekendmaakte, waaronder Israëls bezit van kernwapens en ook logistieke informatie over de routes van de arbeiders op het instituut naar hun werk. Hij werd in Italië gekidnapt door de Israëlische geheime dienst Mossad en in Israël berecht.
De kinderrijke familie Vanunu emigreerde uit Marokko naar Israël toen Mordechai negen jaar oud was. Hij groeide op in Beër Sjeva, waar zijn vader religieuze artikelen op de markt verkocht. Net als alle Joodse kinderen van zijn leeftijd ging hij in militaire dienst, waarna hij een baan vond bij het kerninstituut in Dimona. Hij tekende een contract waarin stond dat hij geen bedrijfsinformatie prijs zou geven, en dat hij er zich van bewust was dat hij vijftien jaar in de gevangenis zou komen als hij dat wel zou doen.
Vanunu begon aan een studie economie aan de Ben-Gurion Universiteit van de Negev in zijn woonplaats Beër Sjeva. Later stapte hij over op filosofie en geografie. Vanunu was een politiek actief student, ook binnen de studentenvereniging. Na zijn B.A. begon hij aan een M.A. in filosofie. Op zijn werk smokkelde hij een fototoestel binnen en maakte hij vele foto's, onder andere van wat waarschijnlijk kernkoppen zijn.
In december 1985 werd hij door zijn werkgever ontslagen wegens 'onstabiel gedrag'. Vanunu reisde door het Verre Oosten en raakte in Australië in contact met dominee John McKnight, die hem wist over te halen zich te bekeren tot het christelijk geloof. Vanunu liet zijn foto's zien, waarop de dominee hem aanmoedigde deze te publiceren.
Later raakte Vanunu in contact met de The Sunday Times. Bij het verifiëren van Vanunu's getuigenis, stuurde de krant een verklaring van hem naar de Israëlische ambassade in Londen. De ambassade bevestigde dat Vanunu in het kerninstituut had gewerkt. De Israëlische geheime dienst, de Mossad, besloot in te grijpen. Vanunu werd met inzet van een Amerikaanse romantisch verleid naar Italië en van daaruit gekidnapt naar Israël. The Sunday Times publiceerde het artikel nadat het contact met Mordechai Vanunu was verloren.
Bij zijn rechtszaak werd hij verdedigd door een van Israëls bekendste advocaten, Avigdor Feldman. Deze stond hem ook bij tijdens zijn straf en na zijn vrijlating. Mordechai werd verder geholpen door zijn broer Meir Vanunu, die een belangrijke rol vervulde in de internationale actie voor zijn vrijlating. Mordechai's vader daarentegen wilde hem niet meer ontmoeten omdat hij zich had bekeerd tot het christelijk geloof.
De Israëlische regering bleef hem steeds als een veiligheidsrisico zien. Na het uitzitten van zijn gevangennisstraf (waarvan meer dan elf jaar in een isoleercel), werd Vanunu op 21 april 2004 onder een groot aantal beperkingen vrijgelaten. Hij mocht niet naar het buitenland reizen (tot minstens 19 april 2006), een mobiele telefoon of een paspoort bezitten, had politietoestemming nodig voor het verlaten van zijn woonplaats en voor het praten met buitenlanders en diende uit de buurt van luchthavens en havens te blijven. Direct na zijn vrijlating ging hij in de Anglicaanse kathedraal van St-George in Oost-Jeruzalem wonen.
In december 2009 werd Vanunu opnieuw veroordeeld voor het schenden van de in 2004 opgelegde beperkingen. In mei 2010 ging hij de cel in voor een periode van drie maanden.
In 2013 and 2015  heeft hij een TV interview gegeven, waardoor Israël heb nog steeds als een gevaar voor de staat beschouwd. Hij heeft nog steeds huisarrest en moet 22 december voorkomen, de aanklacht is het schenden van parool en zijnde een gevaar voor de staat Israël.
Bron: Moredchai Vanunu, Wikipedia
Wordt vervolgd …