DONEER EN STEUN ONS WERK
DONATE AND SUPPORT US:
IBAN: NL10 SNSB 0902 6349 33
 Abu-Bakr Al-Bagdadi met John McCain
Ook op video te zien.

McCain zei afgelopen woensdag over de vermeende cyberaanvallen van Rusland tegen Amerikaanse politieke organisaties dat de in 2016 gehackte presidentsverkiezingen om de uitkomst te  beïnvloeden  een "daad van oorlog is."
Dat zegt John McCain, de "Founding Father"of ISIS, er duiken continue bewijzen en geruchten op, dat John McCain direct contact had met ISIS, toen nog Al-Queda leden en zelfs betrokken bij de "making of" Abu Bakr al-Bagdadi, waar we sinds de overwinning van Rusland en Syrië, niets meer van horen.
Zijn laatste strohalm is nu Rusland om zo niet de "drek" boven tafel te krijgen!
McCain is een virulente criticus van Rusland en president-elect Donald Trump, die herhaaldelijk twijfel heeft doen rijzen over de bewering dat Rusland cyberaanvallen gelanceerd heeft op de Amerikaanse democratische partij.
McCain en andere top leiders van het Congres hebben beloofd om de wetgeving inzake sancties tegen  Rusland in aanvulling op die al aangekondigd door president Barack Obama vorige maand te veranderen.
Op 22 december, kondigde Obama een reeks van economische sancties tegen Rusland aan, evenals de uitzetting van 35 Russische diplomaten, over aantijgingen dat zij zich bemoeide met de 2016 presidentsverkiezingen door middel van cyberaanvallen.

John Sidney McCain III:
(Coco Solo (Panamakanaalzone),  is een Amerikaans politicus van de Republikeinse Partij. Hij is de senior Senator voor Arizona sinds 1987. Hij was lid van het Huis van Afgevaardigden voor het 1e congresdistrict van Arizona van 1983 tot 1987. McCain was de presidentskandidaat van de Republikeinse partij voor de Amerikaanse presidentsverkiezingen in 2008. Hij moest het in deze verkiezingen afleggen tegen de Democratische kandidaat Barack Obama.
Hij is verschillende malen naar Syrië gereisd en volgend wel ingelichte bronnen heeft hij daar een ontmoeting gehad met Abu-Bakr-al-Bagdadi.
Het bezoek vond plaats op 27 mei 2013.
Volgens nieuwsberichten:
Arizona Senator McCain reisde naar  Syrië  door Turkije samen met  General Salem Idris, die de Opperste Militaire Raad van het zogenaamde Vrije Syrische Leger leidt  en bleef daar gedurende enkele uren alvorens terug te keren.
De senator heeft ontmoetingen gehad met de zogenaamde leiders van het Vrije Syrische leger,  zowel in Turkije en Syrië.
McCain's heeft een twee uur durend bezoek gemaakt en heeft veel aandacht getrokken omdat veel bloggers en media outlets beweren dat twee van de rebellenleiders, te zien in de foto's die McCain gepost had op zijn Twitter-account erg leken op de leiders van de Islamitische Staat: Abu Bakr al-Baghdadi en Muahmmad Noor .
Te zien links Abu Bakr Al-Bagdadi met John McCain
De

Verenigde Staten hielden

al-Baghdadi in een militaire gevangenis in Irak genoemd Camp Bucca van 2005 tot 2009 (of 2010) en vervolgens hebben ze 

hem losgelaten

, naar verluidt op verzoek van de Iraakse regering. Toen hij

werd

overgedragen aan de Iraakse regering,  vertelde hij zijn Amerikaanse leger ontvoerders, "Ik zie je in New York". Abu Bakr Al-Bagdadi is getraind in Kamp Bucca, omdat de VS geen visie of plan hadden om Irak op te bouwen. IS één versie.

De andere versie is dat Abu Bakr eigenlijke gewoon een ordinaire CIA agent is, die door moest gaan als de nieuwe Osama bin Laden en zo de oorlog te verhevigen. Het principe heers en verdeel. Irak heeft namelijk een grote Shia gemeenschap een gruwel voor McCain zijn generatie, denk aan Iran, ook de olie andere natuurlijke bronnen zijn van belang.
Direct na de bevrijding van al-Baghdadi , werd de Islamitische Staat opgericht zomaar uit het niets. Dit kan logistiek niet, dus voorbereidingen waren getroffen met de VS, materieel, geld om binnen 24 uur Irak en een deel van Syrië te bezetten, met hulp van onze "John McCain". De VS heeft officieel  al-Baghdadi aangewezen als een terrorist op 4 oktober 2011, en bood een beloning van $ 10 miljoen levend of  dood. Dit was toen de VS de eerste foto van haar voormalige gevangene had vrijgegeven.
Vervolgens heeft de VS een cruciale fout gemaakt de foto uit  Camp Bucca, ziet er niet uit als de eerste foto van Abu Bakr, mede omdat de man een bril heeft en een zware baard. Nog een slechtere foto was vrijgegeven door het Iraakse ministerie van Binnenlandse Zaken  Het lijkt niet dezelfde man.
De informatie over de achtergrond van al-Baghdadi's zijn ook zo wazig als de foto's.
Hij is schijnt geboren te zijn in Samarra, ten noorden van Bagdad, op 28 juli, 1971.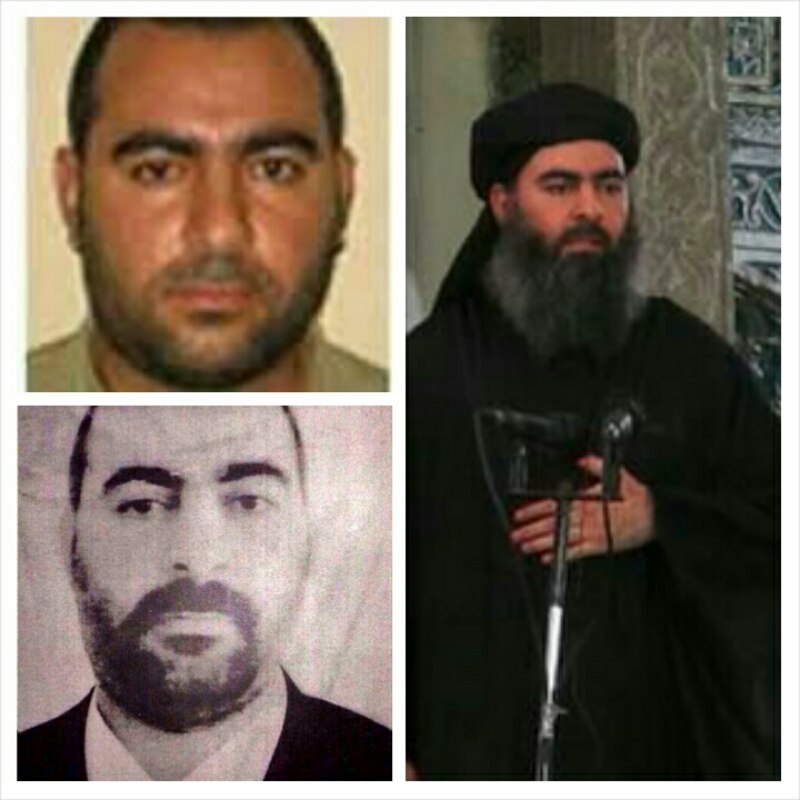 Senator McCain heeft een lange relatie met de CIA als  voorzitter van het "State Department" en het gefinancierde "International Republican Institute". De IRI organiseerde de omverwerping van de Haïtiaanse president Jean Bertrand Aristide in 2004, en is betrokken geweest bij vele andere operaties, met inbegrip van de staatsgreep in Oekraïne.
Volgens de journalist Thierry Meyssan, gevestigd in Damascus, heeft McCain deelgenomen aan elke "Color revolution" in de afgelopen 20 jaar. Ook was volgens Meyssan" McCain voorzitter van een bijeenkomst in Caïro op 4 februari 2011, die de NAVO had georganiseerd om de "Arabische Lente" te lanceren in Libië en Syrië. De zogenaamde opstand in Syrië begon kort daarna.
http://www.voltairenet.org/article185085.html
Meyssan's bewering dat McCain  nauw betrokken was bij de CIA's  georganiseerde "regime changes" maakt veel meer zin dan de fictie dat niemand weet wie Abu Bakr al-Baghdadi is of hoe deze gewelddadige Irakees leider werd van  al-Qaeda en later ISIS.

Al met al een amateuristische daad, die wel honderdduizenden mensen het leven gekost heeft. Je zou zeggen ICC (Internationaal Criminal Court). Maar dat is een institutie waar allen Afrikaanse landen en een enkele gepakte zogenaamde oorlogsmisdadiger uit Joegoslavië veroordeeld wordt. De VS gaat echt niemand uitleveren aan het door henzelf gemaakt tribunaal!
Bron: Voltaire, Global Research, Press TV, Youtbe, Wikipedia.