DONEER EN STEUN ONS WERK
DONATE AND SUPPORT US:
IBAN: NL10 SNSB 0902 6349 33
Deze dagen is het druk in Sochi, Rusland (prachtige zwarte zee badplaats met Olympisch stadion). Ik was van plan, ervoor uitgenodigd, er naar toe te reizen, maar door persoonlijke omstandigheden niet mogelijk, dus geef ik verslag via bronnen vanuit Sochi!
Sochi
Sochi is een Russische stad in het zuiden van kraj Krasnodar iets ten noorden van de grens met de Georgische regio Abchazië aan de Zwarte Zee in de Noordelijke Kaukasus.
Het is de belangrijkste Russische badplaats en wordt ook wel de "Russische rivièra" genoemd. De agglomeratie Groot-Sotchi omspant een lengte van 147 kilometer en wordt ook wel de 'op een na langste stad ter wereld' genoemd, al bestaat Groot-Sotsji uit meerdere plaatsen. De agglomeratie loopt van de rivier de Sjepsi tot de rivier de Psou, die tevens de grens is met Abchazië.
Het Internationaal Olympisch Comité wees in juli 2007 de Olympische Winterspelen van 2014 toe aan Sotchi.
Het 19th World Festival of Youth and Students geopend in Sochi op 15 Oktober 2017 – gehouden tot 22 Oktober 2017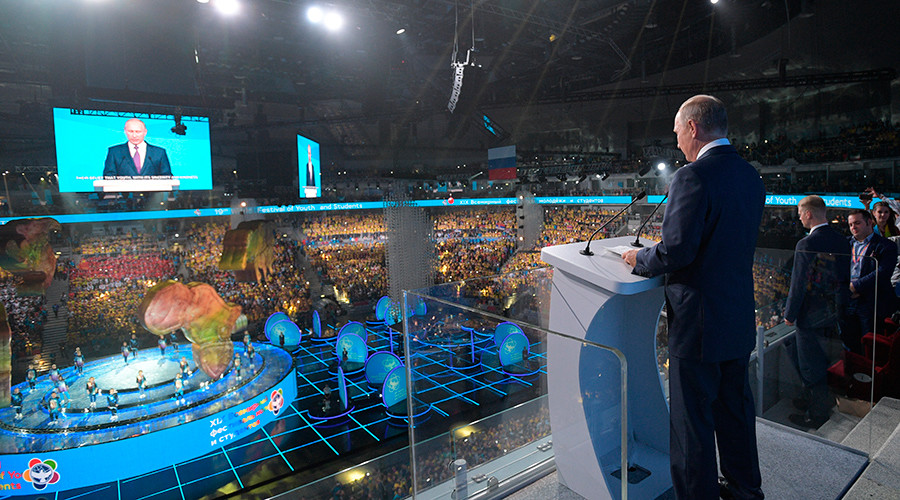 In het Bolshoi Ijspaleis van Sochi werd de openingsceremonie van het Wereldfeest van Jeugd en Studenten gehouden op zondag 15 oktober j.l.
De president van de Russische Federatie Vladmir Putin opende  het 19e Wereldfestival voor Jeugd en Studenten. President Poetin wenste  de deelnemers een mooi en leerrijk festival! De president zei verder dat het festival, broederschap en de uitkomst van hun dromen van de deelnemers zal kunnen vervullen. "Deze jonge generatie brengt innovatieve ideeën in de wereld. Het is gebruikelijk voor jullie om te experimenteren, te argumenteren. Ga verder! Maak je toekomst! Durf de wereld te veranderen, maak het een betere plek . Het is allemaal in jouw handen! Ga gewoon door, "zei President Vladimir Poetin.
Bij de openingsceremonie gaf de president van de Wereld Federatie van de Democratische Jeugd Nicolas Papademitriou zijn speech. In de eerste plaats dankte hij  de president van Rusland en de Russische bevolking voor het mogelijk maken van het festival. "We worden ontvangen door het land van helden, zei hij. Het land dat het fascisme versloeg en honderd jaar geleden de loop van de geschiedenis veranderde ", aldus de heer Papademitirou. In zijn toespraak veroordeelde hij fascisme, kolonialisme, imperialisme. "Het Festival leidt ons tot eenheid, dus laten we verenigd worden in de naam van vrede!"
Igor Krutoi, de beroemde muziekproducent en Alexei Sechenov, lid van de Russische Televisie Academie, produceerde de show.
De ceremonie was gewijd aan de belangrijkste problemen van de moderne wereld: milieu, armoede, onderwijs, energie, informatie en wetenschap die de basis legde voor dit festival. Sprekers uit verschillende delen van de wereld die een verschil hebben gemaakt in het oplossen van mondiale problemen, zijn ook uitgenodigd om deel te nemen. Hun toespraken waren verstrengeld met optredens van Russische beroemdheden zoals Dima Bilan, Polina Gagarina, Teona Dolnikova, Nyusha, Alexander Panayotov, Yulia Parshuta, Tolmachevi zussen, Sergei Lazarev.
De eerste spreker was Artem Oganov, een theoretische kristallograaf, mineralogist, chemicus, natuurkundige en materiaalkundige. In zijn toespraak benoemde hij de moderne wetenschap en de nieuwe prestaties in de chemie. "Computertechnologie heeft ons geholpen om verbindingen te ontdekken die onmogelijk waren voor de klassieke chemie om te ontdekken". Hij deed een beroep op de jongeren om dapper genoeg te zijn om hun dromen te vervolgen, nieuwe ontdekkingen te maken, hen te promoten en hun ideeën tot leven te brengen. 'Een wetenschapper moet zo dapper zijn als een atleet! Ga ervoor!"
Ksenia Alferova en Egor Beroev, oprichters van de Ya Est! Charity Foundation, gericht op de manier waarop de samenleving mensen met speciale behoeften omgaat zeiden het volgende: "Sommige mensen zijn autistisch, terwijl anderen artistiek zijn. Waarom zou men hen  negeren? "- Samenwerking ook met andersdenkenden is van cruciaal belang.
Het onderwerp milieu werd bij de openingsceremonie gepresenteerd  door Afroz Shah uit India . Hij verzamelde vrijwilligers onder het volgende motto: van slumbewoners naar Bollywood-sterren. Het kostte hem en de vrijwilligers 86 weken om 5400 ton afval van het strand te verwijderen. "We zijn ervan overtuigd dat regeringen verantwoordelijk zijn voor de schoonheid van onze rivieren, meren en oceanen, maar ze doen het niet goed. Daarom draagt iedereen van ons  deze verantwoordelijkheid. Als we afval produceren, moeten wij ook degenen zijn om het op te ruimen "- verklaarde Afroz Shah, die jonge mensen oproept tot actie.
Het onderwerp van Energie in het algemeen en de beschikbaarheid ervan in Afrika werd aan de kaak gesteld door Simbarashe Mhuriro uit Zimbabwe, oprichter en CEO van Oxygen Africa. Zijn bedrijf ontwikkelt hernieuwbare energiebronnen in Afrika en hij is van mening dat dit enorme probleem opgelost kan worden als jonge mensen moedig genoeg  zijn om hun ideeën in het echte leven om te zetten. "Droom, inventeer en pas je ideeën in energie toe", zei Simbarashe Mhuriro.
De spreker over armoede was Gamal Albinsaid, een arts en een sociaal ondernemer uit Indonesië. Hij stichtte het Garbage Clinical Insurance Project, waardoor iedereen (armen) een dokter kan bezoeken in ruil voor het verzamelen van afval. Gamal vertelde een verhaal van een driejarig meisje dat stierf omdat ze geen medische hulp kon bekostigen. "Wees niet trots op je idee. Ga gewoon een probleem  oplossen ", aldus Gamal Albinsaid.
Een ander onderwerp was medicijnen. Het werd gepresenteerd door Alina Kudryavtseva, een wetenschapper die een doorbraak heeft gemaakt in de strijd tegen kanker. Ze decodeerde een aantal van de kankervormingsmechanismen (hoe en waarom gewone cellen veranderen in kankerachtige). Ze roept op deze nieuwe uitvindingen te steunen voor de bestrijding van deze dodelijke ziekte.
Het onderdeel Internet werd gepresenteerd door de zussen Grace Loo en Elisa Chang. Ze waren niet bewust van het bestaan van elkaar tot ze 25 werden, dankzij de moderne technologie van het Internet vonden ze elkaar en leven nu samen.
Het festival is nu van start gegaan en ik zal meer berichten over het verloop en afsluiting van het festival!
Bron: Sochi, Wikipedia