DONEER EN STEUN ONS WERK
DONATE AND SUPPORT US:
IBAN: NL10 SNSB 0902 6349 33
Saraqib, een stad in de oostelijke provincie Idlib bevindt zich nu in het vizier  van het Syrische leger na het innemen van Abu Duhur. Alle ontwikkelingen op het slagveld in de afgelopen dagen wijzen erop dat de Syrische regerings troepen, waarvan velen behoren tot de elite brigades zoals de Tiger Forces Division,  Saraqib binnenkort binnen marcheren.
Bombardementen vinden momenteel plaats op de  bolwerken van de terroristen, de burgers zijn lang geleden massaal weggevlucht, de propaganda machine MSM schrijft al weer haar dagelijkse portie propaganda, er zouden ziekenhuizen worden gebombardeerd. Echter zijn het geïmproviseerde ziekenhuizen, geen echte ziekenhuizen, opgezet door de terroristen, om hun gewonde strijders te behandelen, niet de burgers.  Afgelopen maandag hebben twee luchtaanvallen de schade aangericht aan deze opgezette veld hospitalen (gemaakt voor de behandeling van Al-Queda, Nusra en anderen brigade terroristische strijders), o.a. het  18-bed Owdai-veld hospitaal  in Saraqib-stad, ondersteund door artsen zonder grenzen en geld uit EU-landen.
IDLIB
De laatste stuiptrekkingen in Jobar, Ghouta en Idlib, het einde van de proxy-oorlog in Syrië
Inwoners van de noordwestelijke provincie Idlib in SYRIË verwachten niet dat er binnenkort een gevecht zal plaatsvinden tussen Turkije en de al-Queda gelieerde militanten, die de stad Idlib bezetten. Maar als er een confrontatie zou plaatsvinden, vertelden velen Syriërs zullen ze zich tegen de jihadisten keren.
Hun brede steun voor de recente grensoverschrijdende campagne van Turkije in het noorden van Syrië verzwakte de terroristengroep al-Sham, een alliantie met Al-Queda, ondanks haar militaire winst slaagde zij er niet in een steunbasis te verwerven in haar belangrijkste bolwerk in Syrië en wordt alom gehaat door de Syriërs die nog achtergebleven zijn!
Uit alles blijkt dat Idlib bezet is door terroristen, de meest notoire verslaggever is Bilal Abdul Kareem de lieveling van CNN en MSM EU Media, hij heeft een eigen website OGN news, waar veel jihadistische taal gespuid wordt.
Ook de zogenaamde doktor, een jihadist uit de VK (Engeland) is lid, deze doktor noemt zichzelf Dr. Shajul Islam en was diverse malen te gast bij de Nederlandse staatstelevisie NOS, om daar te spreken over de zogenaamde gifgasaanval van Assad en Poetin. Deze doktor is nog steed in Idlib en spuit nog steeds propaganda, die gretig door de propaganda MSM (EU en VS) wordt gedeeld, ook pseudo arabisten zoals de Nederlandse Reina Netjes (veroordeeld in Egypte als aanhanger van de Moslim Broederschap), die dagelijks op Twitter bericht van haar geliefde terroristen uit Idlib!
Dr. Shajul Islam, de "gifgas dokter" 
Nu hebben we de "harde" bewijzen, de dokter die in beeld kwam bij het 6 en 8 (5 april 2017) uur journaal is Shahul Islam. Lekkere jongen, aangeklaagd wegens terrorisme in het VK, hij zou namelijk medeplichtig zijn aan de moord (onthoofding) van James Foley, de journalist, weten jullie nog?
Brief aan de Politiek en Media – Terrorist te zien in het journaal als zijnde dokter – heeft de vermoorde Jeroen Oerlemans gekidnapped
Daarnaast heeft hij, de in Libië vermoorde, Jeroen Oerlemans, in 2013, Oerlemans werd samen met zijn Britse collega John Cantlie gekidnapped door Sjahul en zijn broer Najuh, die allebei geradicaliseerd zijn en eerst in Aleppo (oost) bij Al-Queda, Al-Nusra en later ISIS waren aangesloten, daar vele onschuldige burgers vermoord hebben en hen als "menselijk schild" gebruikt hebben. Deze worden als dokter op nota bene het 6 en 8 uur journaal getoond (uitzending 5 april 2017) als zijnde dokters die Assad en Poetin beschuldigen van een gifgas aanval!
http://www.independent.co.uk/news/uk/crime/newly-qualified-nhs-doctor-accused-of-kidnapping-british-photographer-and-dutch-colleague-in-syria-8932716.html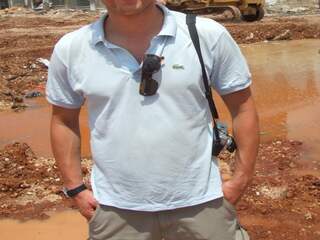 Shajul Islam, die werd gearresteerd voor ontvoering van journalisten is terug in Syrië. De NHS arts en zijn broer werden vrijgelaten nadat de zaak voorgekomen was met gebrek aan bewijs.
In Idlib, in het noorden van Syrië, waar hij beweert te zijn en bezig met het verstrekken van medische hulp aan de slachtoffers van de Syrische en Russische luchtaanvallen. Deze show gaat nog steeds door en zoals ik al schreef, gretig gedeeld door de MSM. Zelfs de VN gaat hierin mee en "linked" de gifgasaanval aan het Syrische leger en Assad. Op basis van uitspraken van een terrorist!
Islam, uit Oost-Londen (Pakistaanse afkomst), die aan de Universiteit van Londen afgestudeerd is, werkte als arts in het ziekenhuis St Bart's, werd verwijderd uit het medisch register van het General Medical Council .
Uit zijn twitteraccount  blijkt trouwens dat Shajul Islam in contact staat met de Britse NGO One Nation, een islamitische hulporganisatie met adressen in Leicester en Batley. Via deze kan men voor zijn werk (en dat van al Qaeda?) stortingen doen.
Op 1 april, vier dagen voor die vermeende gifgasaanval, bleek die NGO trouwens tien gasmaskers aan hem te hebben geleverd. Naast, ook Artsen Zonder Grenzen die er die dag ook ettelijke afleverde. Allemaal juist op tijd voor de Grote Dag. Toeval? Wie gelooft dat?
Lees meer: http://www.dailymail.co.uk/news/article-3711118/Russia-airstrikes-killing-women-children-MISSING-ISIS-Struck-Brit-NHS-doctor-accused-kidnapping-Western-hostages-treating-bomb-victims-Syria.html  
In 2014 was er in het Verengd Koninkrijk en de VS een vermoeden dat Razul Islam, broer van Shajul, de man was die James Foley had vermoord. Mogelijk is deze foto echter een enscenering en gebruikte men een "green screen" effect om de waarheid te verhullen.
FERAS KARAM
Zo is er ook nog de tweet van een zekere Feras Karam, een topreporter van Orient News, een jihadistische propagandazender die werkt vanuit de Verenigde Arabische Emeritaten. Deze Feras Karem wist op 3 april 2017 om 17 uur te melden dat hij de volgende dag in de provincie Hama, dus vlakbij Khan Sheikhoun, een reportage ging maken over het gebruik van chemische wapens daar. Dit kan geen toeval zijn toch?
Een helderziende man dus die zelfs wist dat er een luchtaanval ging plaatsvinden met gifgas. Wat later wordt het dan, bij een volgende tweet, chloorgas. De echtheid van die tweets wordt ook door niemand betwist.
Wel worden ze zoals steeds, al jarenlang, door de staats media MSM doodgezwegen. Het is bijna een traditie, zou het niet zo treurig zijn, het hangt zo aan elkaar van leugens, dat de gewone bevolking het totaal niet meer zou snappen en misschien zelf wel in opstand zou kunnen komen, de leugens stapelen zich op!  Je krijgt inderdaad de indruk dat die jihadisten wisten dat er wat stond te gebeuren, gasmaskers, reportage!
Een zak met chloor gevonden in het eerder door al-Queda  gecontroleerde deel van Aleppo (oost tot december 2017). De zak komt met gifgas komt uit uit Saoedi-Arabië.
Nu twittert Dr. Shahul Islam en de Jihadisten verslaggever Bilal Abdul Kareem dat er ziekenhuizen gebombardeerd zijn er burgers gedood zijn en wie zien we weer voorbij komen? Natuurlijk de Al-Queda "Witte Helmen", de Hollywood ploeg, met een brievenbus firma in Amsterdam-zuid, gesponsord met EU belastinggeld!
Ze willen ons nu laten geloven dat er een "aardappelmarkt" gebombardeerd is en een markt, waar veel burger slachtoffers gevallen zijn. Veel burgers wonen er niet meer in Idlib, die zijn gevlucht voor deze terroristen en degene die er nog wonen, konden niet of zijn aanhangers van terroristen, ook wonen er veel vrouwen en kinderen van de terroristen, in bezette huizen van Syriërs.
No to death no to fear no to pain no to loneliness no to sorrow no to hate no to #putin no to immoral world – only someday only yes to freedom yes to love #idlib #Saraqeb #Syria pic.twitter.com/hRAoHwsNMt

— bonnie kipperman (@BonnieKipperman) January 29, 2018
 Dan nog een Statement van een ené Shayk Muhaysini
 September 2017 schreef hij:
De afgelopen week is er veel controverse rond HTS (Hayat – Tahreer- as- Sham) geweest, wat misschien niet als iets abnormaals klinkt, maar deze keer was het gesprek vooral gericht op het leiderschap van HTS. Er waren walkie talkie-mededelingen naar verluidt gelekt door een topfunctionaris in de Nour Din Zinki-beweging (in 2016-2017 werd deze door de VS gesponsord, deze groep onthoofde destijds een minderjarige jongen). Nog maar een paar maanden geleden nam Zinki deel aan de Shura-raadsvergaderingen van HTS voordat Zinki hun splitsing uit de groep aankondigde.
De lekken ontsluieren, dat Abu Waleed, de commandant van Idlib en verschillende andere commandanten een volledige minachting voor de Sharee '(religieuze adviseurs) meningen van de groep in belangrijke HTS-beslissingen vertoonden. Hun discussie concentreerde zich rond het besluit om andere rebellengroepen te bevechten. Daarnaast bleek dat het een poging was om Sharee's het zwijgen op te leggen die probeerden zich uit te spreken tegen de beslissingen van de leiding die volgens hen niet-islamitisch waren. Abu Waleed ging zelfs zo ver om te zeggen dat de enige rol voor Sharee's in HTS is om de beslissingen van HTS-leiders te ondersteunen en als ze zich niet aan deze rol willen houden, moeten ze hun inspanningen ver weg van de groep houden.
Genoemd in de opnames was de bekende Shaykh Abdullah Muhaysni toen hij op weg was naar een basis van HTS-strijders om hen te adviseren om niet te vechten tegen Ahrar Sham, een groep die HTS uit veel van hun posities in het noorden van Syrië heeft verdreven.
Na het lek bracht HTS een verklaring uit waarin hij beweerde dat het "doel van deze aanval is om de Jihad, opofferingen, bloed en geduld van de rebellen te begraven. HTS benadrukte het volgende:
1) Veroordeling van eventuele opmerkingen die wijzen op gebrek aan respect voor de studenten van kennis, ongeacht of deze opmerkingen zijn gemaakt door leden van HTS of niet.
2) Het is het principe van HTS om in coördinatie te zijn met de mensen van kennis aangezien zij de hoeksteen van de groep zijn.
3) Deze lekken waren een wanhopige poging van de vijanden van de revolutie om zijn inspanningen en sterke punten te ondermijnen. En dat deze pogingen voorbestemd waren om te mislukken.
4) De persoon die de Sharee's verbaal misbruikt, zal naar een interne rechterlijke macht worden gestuurd om rechtvaardig en passend te worden behandeld.
Abdullah Muhaysini stond weer in de schijnwerpers toen hij een paar dagen na de gelekte opnames een eigen verklaring uitbracht. Daarin werden drie voorwaarden vastgelegd door de mensen van kennis binnen HTS om bij de groep te blijven. Ze waren:
1) Duidelijke erkenning voor de mensen van kennis en het behoud van hun positie en status.
2) Hervorming en betere uitvoering van de interne rechterlijke macht.
3) Het vormen van een rechterlijke raad om toezicht te houden op alle klachten tegen HTS van zowel het Syrische volk als andere facties. Ook alle gevallen heropenen van gevangenen die door HTS worden vastgehouden.
Het was echter onduidelijk naar wie Muhaysni verwees toen hij "mensen van kennis" zei, omdat niet lang na het uitbrengen van deze verklaring hij een nieuwe door hem ondertekende en een andere beroemde geestelijke, Musleh Ilyani, uitbracht die hun ontslag bij HTS aankondigden. Ze verklaarden dat ze zullen blijven samenwerken met de groepen en de bevolking van Syrië om de vruchten van hun gezegende revolutie teweeg te brengen.
Muhaysini kreed sancties van het US Treasury department.  Muhaysini noemde zichzelf een "nationaal symbool"  en was ontzet toen hij door de Amerikaanse schatkist als terrorist werd verklaard, zei hij in een interview met de New York Times. Muhaysini plaatste een video waarin hij antwoordde op de aanwijzing van terroristen door de VS.
Abu Muhammad al-Maqdisi en Abu Qatada werden genoemd door Muhaysini. Al-Qaeda-leiders Osama bin Laden en Ayman al Zawahiri werden geprezen door Muhaysini.
Muhaysini heeft publiekelijk geld ingezameld voor het offensief van 2016 om het regime-aanval op Aleppo te doorbreken van donoren in Qatar en andere Perzische Golfstaten.  In 2016 bedankte Muhaysini donoren voor het leveren van raketten aan jagers in Syrië.
Eind 2013 plaatste Muhaysini zijn steun voor de toen actieve actie van Madid Ahl al-Sham op Twitter, terwijl hij een van de organisatoren van de fondsenwervers, Sa'd bin Sa'd Muhammad Shariyan Al Ka'bi, en de locatie in Qatar identificeerde.  Madid Ahl al-Sham was een campagne voor fondsenwerving in Qatar, geïdentificeerd door Muhaysini en anderen voor zijn financiële hulp aan Jabhat al-Nusra.
"Cubs of al Aqsa camp" voor Syrische kindsoldaten werd opgericht door Muhaysini.  Muhaysini eiste steun van Turkije. De Turkse krant Yeni Şafak prees Muhaysini en zei dat hij tegen "terroristen" vocht.
Muhaysini bemiddelde in het westen van Idlib tijdens een FSA Nusra-conflict.
Begin 2014 diende Muhaysini opnieuw als bemiddelaar, dit keer tussen ISIS en zijn rivaliserende jihadistische groeperingen, Al Nusra en Ahrar al Sham.  Volgens rapporten hoopte Muhaysini een fusie tot stand te brengen tussen ISIS en de rebellengroeperingen, waarvan wordt gedacht dat ze door de regering van Qatar of door geheime terroristen in Qatar zijn gefinancierd, zoals die achter Madid Ahl al-Sham.
Muhaysini zwoer alle Alawitische mannen uit te roeien en schreef dat Alawitische vrouwen potentieel als apostaten terechtgesteld kunnen worden.  Muhaysini eiste de vernietiging van het sjiitische dorp Al Fu'a als de soennieten in Madaya niet werden gevoed, bewerend dat het de hongerdood van 40.000 moslims daar zou veroorzaken. De staatmedia MSM bracht het verhaal over Madaya naar buiten via Muhaysini. Instructies over de behandeling van kinderen en vrouwen van Alawiten zijn door Muhaysini op twitter gegeven .
Maagden in het hiernamaals werden beloofd vóór de slag van Khan Touman aan zelfmoordnechters door Muhaysini.  Muhaysini bezocht de strijders van de Islamitische Partij van Turkistan vóór de slag en voerde de dua uit. Khan Tuman in Aleppo werd toen aangevallen door de islamitische partij Oeigoers Turkestan.  Een foto van Muhaysini met een Turkestaanse islamitische partijjager in Khan Touman werd na de slag vrijgelaten door de Islamitische Partij van Turkistan.  Ze vertoonden wapens en munitie die tijdens het gevecht in beslag werden genomen. Corpses van wat de TIP gelabeld als "Rawafid" (Shia) jagers en foto's van "Iraanse" gevangenen werden vrijgegeven door de TIP.
Op 9 juni 2017 was hij een van de 69 personen aangewezen door Saoedi-Arabië, de Verenigde Arabische Emiraten, Egypte en Bahrein die terroristische organisaties hebben gefinancierd en steun hebben gekregen van Qatar.
Bron: Smart news, OGN News, Wikipedia, Youtube, Twitter, Willy-van-Damme, Freesuriyah.wordpress, Syria Analysis