Read Time:
3 Minute, 34 Second
DONEER EN STEUN ONS WERK
DONATE AND SUPPORT US:
IBAN: NL10 SNSB 0902 6349 33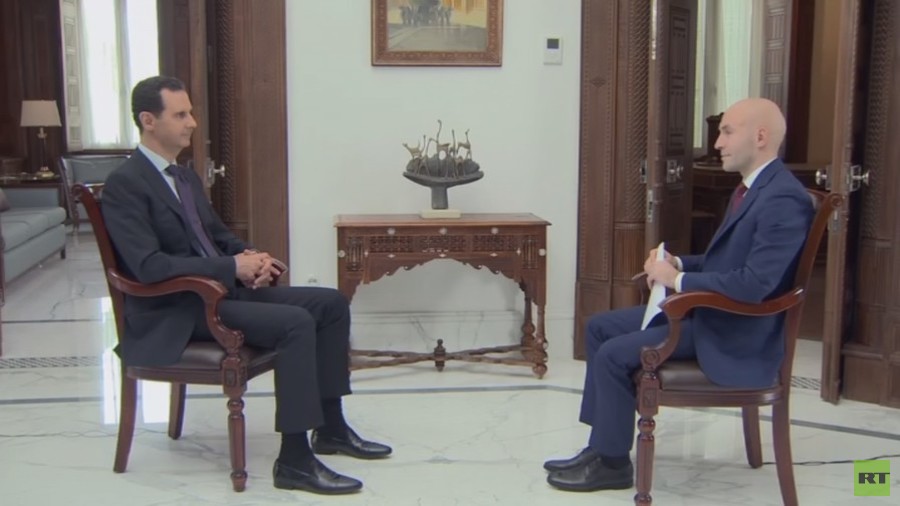 Bashar al- Assad en  Murad Gazdiev in Damascus, RT
De Syrische president Bashar Assad zei in een exclusief interview met Murad Gadziev (RT), dat Moskou het Westen afschrikte om vorige maand een verwoestende luchtaanval op het hele land uit te voeren, en gelooft dat Damascus de zevenjarige oorlog bijna heeft gewonnen, ondanks de aanhoudende Amerikaanse "inmenging".
https://www.youtube.com/watch?v=kKZi4QN7c-k
Met elke nieuwe overwinning voor het Syrische leger, het politieke proces en voor de hele situatie, schrikken we onze vijanden en onze tegenstanders, voornamelijk het Westen geleid door de Verenigde Staten en hun marionetten in Europa in onze regio af, ze proberen elke keer weer, het terrorisme te steunen, meer terroristen naar Syrië te brengen, of het politieke proces te belemmeren, "vertelde Assad aan de RT-correspondent tijdens een interview in Damascus, waarbij hij opmerkte dat zonder de externe financiering aan deze terroristische groeperingen, de vijanden van Syrië, al  "binnen een jaar" verslagen hadden kunnen worden!
De Wereld heeft het Amerikaans verhaal over chemische wapens niet geloofd!
De Syrische leider gelooft echter dat hoe dichterbij het dodelijke conflict komt,des te wanhopiger de maatregelen van de tegenstanders worden. Hij citeerde de vermeende chemische aanval op Douma- "Is het in ons belang? Waarom en waarom nu?", Vraagt ​​hij? als een laatste westerse poging om de internationale opinie te beïnvloeden -  die faalde.
Ze vertelden een verhaal, ze vertelden leugens, maar de publieke opinie over de hele wereld m.n., in het Westen geloofde hun verhaal niet meer, maar ze konden zich niet terugtrekken. Dus moesten ze iets doen, zelfs op een kleinere schaal, "zei Assad, verwijzend naar de gezamenlijke luchtaanvallen tegen het vermeende gebruik van chemische wapens in Douma, de aanval op 14 april door de VS, het VK en Frankrijk werd uitgevoerd".
Assad zegt dat Moskou ook een rol speelde in het beperken van de invloed van Washington en haar bemoeienis in de regio.
Rusland ontmoedigde een grootschalige aanval op Syrië
De Russen hebben publiekelijk aangekondigd dat ze de bases van de VS zullen vernietigen die gebruikt worden om raketten te lanceren, onze informatie – we hebben geen bewijs, we hebben alleen informatie en die informatie is geloofwaardig  – ze (de VS en haar bondegenoten NATO) dachten erover een alomvattende aanval in heel Syrië uit voeren, na de "False Flag", en daarom heeft de dreiging van Rusland het Westen gedwongen om het op een veel kleinere schaal te doen, "zei de Syrische president!
Ze hebben de westerse proxy-strijdkrachten in Syrië uitgeschakeld, hiervoor bedankte Assad ook Rusland omdat het geen directe confrontatie met de VS  bracht, die zowel in de lucht als op de grond zou plaatsvinden.
We stonden dicht bij een direct conflict tussen de Russische troepen en de Amerikaanse troepen, zeg maar gerust een 3e Wereldoorlog, maar gelukkig is dit vermeden, niet door de wijsheid van het Amerikaanse leiderschap, maar door de wijsheid van de Russische leiders," zei Assad aan Gazdiev. "We hebben de Russische steun nodig, maar we moeten tegelijkertijd de Amerikaanse dwaasheid vermijden om ons land eindelijk te kunnen stabiliseren."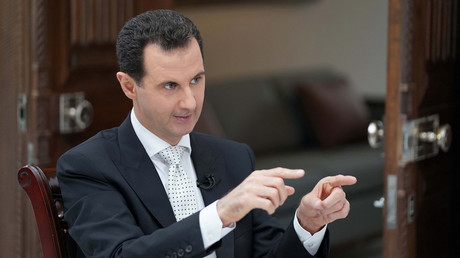 Je hebt een land of je hebt geen land
Ondanks het prijzen van de diplomatieke inspanningen van het vredesproces in Astana en het benadrukken van de eigen drang van de overheid om de harten en geesten te winnen door de orde in bevrijde gebieden te herstellen en een verzoeningsproces in te leiden, zegt Assad dat er nog enkele overwinningen nodig zijn die moeten worden gewonnen op het slagveld.


Facties zoals Al-Qaeda, ISIS, Al-Nusra, en andere jihadistische groepen,  zijn niet klaar voor een dialoog, ze hebben geen enkel politiek plan; ze hebben alleen een duistere ideologische plan volgens hen gebaseerd op Islam, dat is in  elk door Al-Qaeda bestuurd gebied waar ook ter wereld. Dus de enige optie om met die acties om te gaan is geweld, "zei Assad, benadrukkend dat er nu geen stap terug is.
Hoe meer escalatie we hebben, des te vastberadener zullen we zijn om het probleem op te lossen, omdat je geen andere keuze hebt; of je hebt een land of je hebt geen land ", zei de Syrische president tegen RT.
Bron: RT, Murad Gazdiev