DONEER EN STEUN ONS WERK
DONATE AND SUPPORT US:
IBAN: NL10 SNSB 0902 6349 33
Dit is een verkorte versie van een toespraak van John Pilger op een betoging in Sydney, Australië, om de zes jaar durende opsluiting van Julian Assange in de Ecuadoriaanse ambassade in Londen te markeren.
De vervolging van Julian Assange moet eindigen. Of het zal eindigen in een grote tragedie.
Toespraak John Pilger:
John Richard Pilger is een Australisch journalist en documentairemaker, wonend in Londen. Hij was tweemaal Brits journalist van het jaar. Zijn documentaires hebben prijzen gewonnen in de Verenigde Staten en Groot-Brittannië
De Australische regering en premier Malcolm Turnbull hebben een historische kans om te beslissen welke het zal zijn.
Ze kunnen zwijgen, waardoor de geschiedenis zal veranderen. Of ze kunnen handelen in het belang van rechtvaardigheid en menselijkheid en deze  Australische burger naar huis brengen, in naam van democratie en vrijheid.
Assange vraagt ​​niet om een ​​speciale behandeling. De regering heeft duidelijke diplomatieke en morele verplichtingen om Australische burgers in het buitenland te beschermen tegen grove onrechtvaardigheid: in het geval van Julian, een grove schending van gerechtigheid en het extreme gevaar dat hem wacht, zou hij onbeschermd uit de Ecuadoriaanse ambassade in Londen moeten lopen.
We weten uit de Chelsea Manning-zaak wat hij kan verwachten als een Amerikaanse uitleveringsbevel succesvol is – een speciale VN-rapporteur noemde het marteling.
Ik (John Pilger) ken Julian Assange goed; Ik beschouw hem als een goede vriend, een persoon met buitengewone veerkracht en moed. Ik zie een tsunami van leugens die hem overspoeld, eindeloos, wraakzuchtig, perfide; en ik (John Pilger) weet waarom ze hem besmeuren.
In 2008 werd een plan om zowel WikiLeaks als Assange te vernietigen uiteengezet in een uiterst geheim document van 8 maart 2008. De auteurs waren de Cyber ​​Counter-intelligence Assessments Branch van het Amerikaanse ministerie van Defensie. Ze beschreven in detail hoe belangrijk het was om het "gevoel van vertrouwen", het zwaartepunt van WikiLeaks, te vernietigen.
Dit zou worden bereikt, zo schreven ze, met de dreiging van "blootstelling (en) strafrechtelijke vervolging" en een niet-aflatende aanval op zijn reputatie. Het doel was om WikiLeaks, zijn redacteur en uitgever tot zwijgen te brengen en te criminaliseren. Het was alsof ze een oorlog op één enkel mens en op het principe van de vrijheid van meningsuiting gepland hadden.
Hun belangrijkste wapen zou een persoonlijk aanval zijn. Hun stoottroepen zouden in dienst genomen worden in de media – degenen die bedoeld zijn om het de waarheid te berichten en te vertellen.
De ironie is dat niemand deze journalisten heeft verteld wat ze moeten doen. Ik noem ze Vichy-journalisten – na de regering van Vichy die de Duitse bezetting van Frankrijk in oorlogstijd diende en mogelijk maakte.
Afgelopen oktober (2017), interviewde de Australische Broadcasting Corporation-journalist Sarah Ferguson Hillary Clinton, ze schreef erover als 'het icoon voor onze  generatie'.
Red: ook in Nederland is deze huichelachtige journalistiek aan de gang, Eva Jinek kreeg de eer van de staatomroep (NOS) om dezelfde Clinton te interviewen, ze hemelde  haar op en het was gewoon walgelijk om te zien en had niets met journalistiek te maken, maar eerder meet een puber die haar idool ontmoette!
Verder met Pilger: Dit was dezelfde Clinton die dreigde Iran volledig "van de kaart te wissen" en die, als de Amerikaanse staatssecretaris in 2011, één van de aanjagers was van de invasie en vernietiging van Libië als een moderne staat, met het verlies van 40.000 levens en een land terug in de middeleeuwen, waar zelfs slavernij heerst. Net als de invasie van Irak was het gebaseerd op leugens leugens en leugens, ook in Syrië.
Toen de Libische president publiekelijk en gruwelijk met een mes werd vermoord, werd Clinton lachend en juichend gefilmd. Mede dankzij haar werd Libië een broedplaats voor ISIS en andere jihadisten. Mede dankzij haar vluchtten tienduizenden vluchtelingen met gevaar voor eigen leven over de Middellandse Zee en velen verdronken, nog steeds.
red: Nu is er een vluchtelingentop (EU), waar alleen gesproken wordt over de mensenhandelaren, hekken bouwen, Frontex..etc, de werkelijke oorzaak, het imperialisme, de uibuiting, olie, diamanten en land-onteigening van o.a. Amerikaanse oliemaatschappijen (onderdeel van de "deep-state") wordt natuurlijk niet als oorzaak genoemd, huiver en kijk naar onderstaande documentaire:
https://www.youtube.com/watch?v=_fAZS_ETvnQ
Verder met Pilger: Gelekte e-mails gepubliceerd door WikiLeaks onthulden dat de stichting van Hillary Clinton – die ze deelt met haar man (ex-president Bill Clinton, dat type van de sigaar) – miljoenen dollars heeft ontvangen van Saoedi-Arabië en Qatar, de belangrijkste achterban van ISIS en terrorisme in het Midden-Oosten.
Als minister van Buitenlandse Zaken, heeft Clinton de grootste wapenverkoop ooit, ter waarde van $ 80 miljard  dollar, goedgekeurd aan Saudi-Arabië, één van de belangrijkste weldoeners van haar stichting. Tegenwoordig gebruikt Saudi-Arabië deze wapens om uitgehongerde en getroffen mensen te verpletteren in een genocidale aanval op Jemen, waar de westerse wereld haar mond dichthoudt.
Sarah Ferguson, een zeer goed betaalde verslaggever (de waarheidzoekers en echte journalisten krijgen geen riante vergoedingen), heeft hier niets over gezegd tegen  Hillary Clinton die ze intervieuwde (dat heet betaalde journalistiek).
Sarah Ferguson: Australian Broadcasting Corporation(ABC)
Prijzen: 
Logie Award voor meest uitstekende public affairs verslag
 AACTA Awards – Beste documentaireserie
Tv-programma's: 
Four Corners
In plaats daarvan nodigde ze Clinton uit om de "schade" te beschrijven die Julian Assange "persoonlijk aan haar " had aangedaan. In reactie hierop, belastte Clinton  Assange, een Australische burger, als "zeer duidelijk een hulpmiddel van de Russen (natuurlijk wat verwacht je anders als antwoordt van een Clinton) en "een nihilistische opportunist die het bevel voert van een dictator".
Ze gaf geen bewijs – en het werd haar ook niet gevraagd – om haar ernstige beschuldigingen te weerleggen.
Assange kreeg nooit het recht om te antwoorden op dit schokkende interview, de door het Australische publiek, gefinancierde staatszender zou verplicht moeten worden om hem dat recht te geven, het is immers "publiek geld", zoals vele zenders in het westen, ook in Nederland.
Alsof dat nog niet genoeg was, schreef de uitvoerend producent van Sarah Ferguson, Sally Neighour, na het interview de volgende vicieuze tweet: "Assange is de teef van Poetin. We weten het allemaal!" Dat noemen ze dus journalistiek en is niet alleen in Australië, maar ook in Nederland gaat dat zo!
Waarom Julian Assange echt niet wil dat Clinton de nieuwe president wordt
Google is direct betrokken bij de campagne van Hillary Clinton", zei hij eerder in een video. "Natuurlijk, wanneer zij aan de macht is… Ze is een probleem voor de vrijheid van meningsuiting. Zij heeft het plan opgezet voor de vernietiging van Libië – zij was betrokken bij het proces van overname van het Libische wapenarsenaal en de overheveling ervan naar Syrië […] Haar persoonlijkheid, gecombineerd met haar slechte beleidsbeslissingen hebben rechtstreek bijgedragen aan de opkomst van IS
Verder met Pilger: er zijn nog veel meer voorbeelden van Vichy-journalistiek. The Guardian, naar verluidt ooit een grote liberale krant, voerde een vendetta uit tegen Julian Assange. Als een afgewezen minnaar richtte de Wachter zijn persoonlijke, onbeduidende, onmenselijke en lafhartige aanvallen op een man wiens werk het ooit publiceerde en daarvan profiteerde.
De voormalige redacteur van de Guardian, Alan Rusbridger, noemde de WikiLeaks onthullingen, die zijn krant in 2010 publiceerde, "één van de grootste journalistieke scoops van de laatste 30 jaar". Awards werden gegeven en gevierd werd er, buiten Assange om, alsof Julian Assange niet bestond.
De onthullingen van WikiLeaks werden onderdeel van het marketingplan van The Guardian om de oplage van de krant te verhogen. Ze verdienden geld, vaak veel geld, terwijl WikiLeaks en Assange moeite hadden om te overleven. Zo gaat het in heel de westerse wereld! Verschillende kranten en TV programma's in Nederland zijn daar ook schuldig aan!
Met geen cent dus naar WikiLeaks, het leidde zelfs tot een hype, een Guardian-boek dat werd verfilmd in een lucratieve Hollywood-filmdeal. De auteurs van het boek, Luke Harding en David Leigh, misbruikten Assange als een "beschadigde persoonlijkheid" en "ongevoelig".
Ze onthulden ook het geheime wachtwoord dat Julian de Guardian in vertrouwen had gegeven en dat was ontworpen om een ​​digitaal bestand met de Amerikaanse ambassadekabels te beschermen.
Nu Assange vastzit in de Ecuadoriaanse ambassade, stond Harding, die zichzelf over de ruggen van zowel Julian Assange als Edward Snowden had verrijkt, naast de politie buiten de ambassade en schreef  op zijn blog dat "Scotland Yard het laatste zal lachen, m.a.w. ze zullen Julian wel krijgen".
De vraag is waarom.
Julian Assange heeft geen enkele misdaad gepleegd. Hij is nooit beschuldigd van een misdrijf. De Zweedse aanklacht over verkrachting  was nep en een farce zoals we nu weten.
Katrin Axelsson en Lisa Longstaff van Women Against Rape vatte het samen toen ze schreven: "De beschuldigingen tegen (Assange) zijn een rookgordijn waarachter een aantal regeringen proberen WikiLeaks te pakken te krijgen omdat ze hun geheime plannen ook tegen hun eigen publiek hebben onthuld. Oorlogen en bezettingen , moord en vernietiging … De autoriteiten geven zo weinig om geweld tegen vrouwen dat ze beschuldigingen van verkrachting naar believen manipuleren. Dit zijn de "zieke regeringen, de "Puppets – regeringsleiders en parlementsleden, voor hun telt macht en geld de waarheid is bijzaak"!
Deze waarheid is allang verloren gegegaan en begraven in een media-heksenjacht die Assange schandelijk beschuldigde van verkrachting en vrouwenhaat (riekt naar #Metoo). De heksenjacht bestond uit stemmen die zichzelf beschreven als links en als feministen. Ze negeerden willens en wetens het bewijs van het extreme gevaar als Assange zou worden uitgeleverd aan de Verenigde Staten.
Volgens een document vrijgegeven door Edward Snowden, staat Assange op een "Manhunt-lijst". Een gelekte officiële memo zegt: "Assange gaat een leuke bruid in de gevangenis maken (ik hoef hier niet uite leggen wat dit betekent),  hij zal voor altijd kattenvoer eten."
In Alexandra, Virginia – "staat een huis" –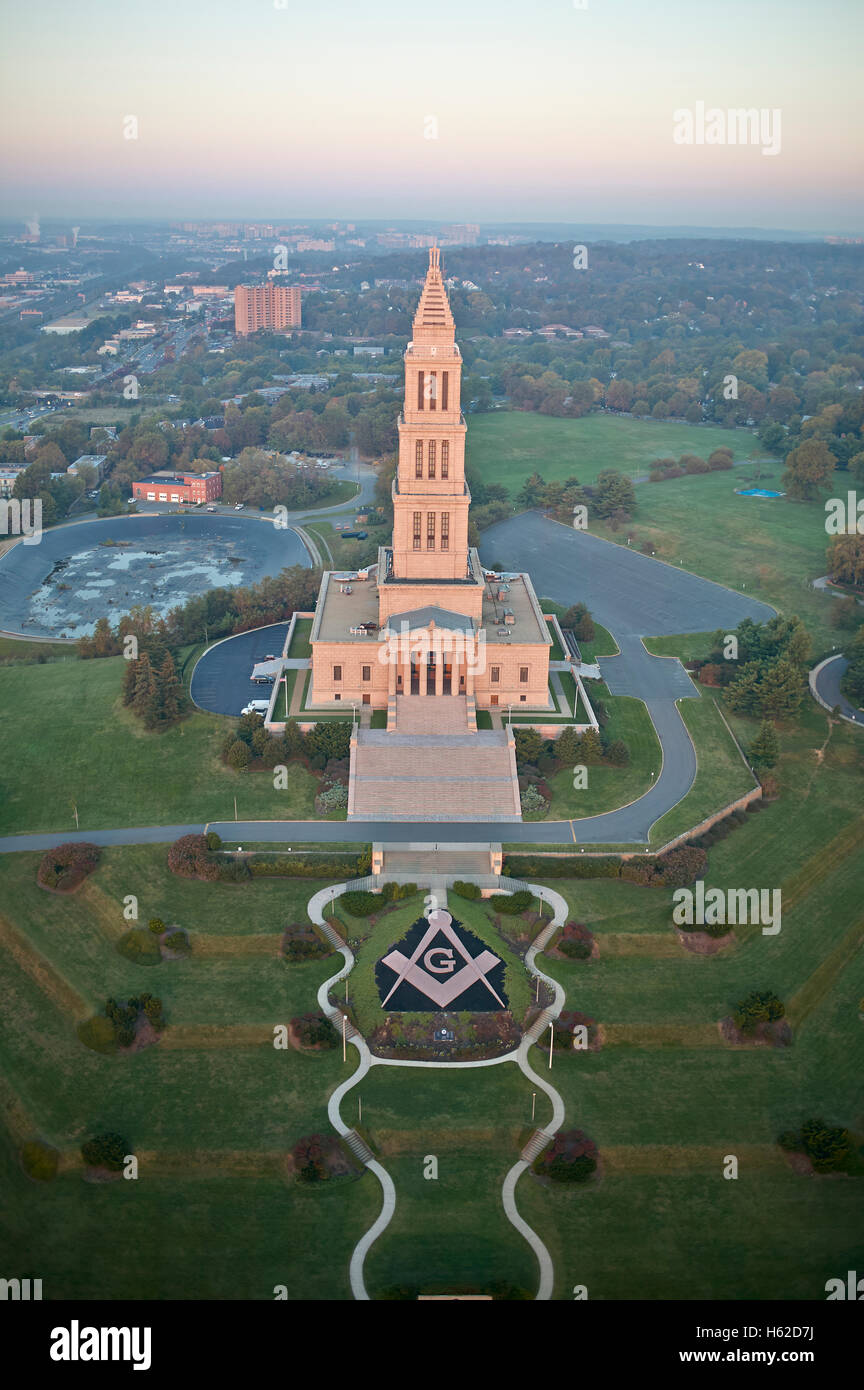 George Washington Masonic Memorial is een zeer groot bouwwerk dat geïnspireerd is door de Pharos van Alexandrië. Naast een groot standbeeld van Washington vindt men er voorwerpen die betrekking hebben op de vrijmetselarij. Het is gebouwd op Shuter's Hill.
Het Freedom House werd gebouwd in 1812 en diende als hoofdkantoor voor de slavenhandelsfirma van Franklin, Armfield & Co. Van 1828-1861 werden er meer dan 10.000 slaven verkocht. Meer dan 3.750 slaven werden verkocht om te werken op de katoen- en suikerplantages in de zuidelijke staten. Toen in 1861 de Amerikaanse Burgeroorlog begon werd het een militaire gevangenis voor zwarte soldaten, maar tegen het einde van deze oorlog werd het een ziekenhuis voor zwarte soldaten en voor slaven die het zuiden ontvluchtten. Tegenwoordig is het een museum van de Northern Virginia Urban Leage en is het te bezichtigen. Eigenlijk een tempel van de Vrijmetselaars, waar de "elite van in ieder de VS toebehoren, presidenten en kandidaten worden uit deze groep gekozen".
" Voor de Amerikaanse elite, voor oorlogsvoering en zelfs een eigen rechtbank – het heeft een geheime grand jury, een terugkeer naar de middeleeuwen,. Dit "huis" heeft zeven jaar lang geprobeerd een misdaad te verzinnen waarvoor Assange vervolgd kan worden!
Dit is niet makkelijk; de Amerikaanse grondwet beschermt uitgevers, journalisten en klokkenluiders. De misdaad van Assange is, de ​​stilte te hebben gebroken.
Geen enkele onderzoeksjournalistiek kan tijdens mijn leven ( zegt John Pilger) het belang evenaren van wat WikiLeaks heeft gedaan om de roofzuchtige macht ter verantwoording te roepen. Het is alsof het morele scherm in één richting is teruggedrongen om het imperialisme van liberale democratieën bloot te leggen: de toewijding aan eindeloze oorlogvoering en de verdeling en degradatie van "onwaardige" levens: van Grenfell Tower tot Gaza.
Harold Pinter was een Brits toneelschrijver en Nobelprijswinnaar. Hij was een van de meest vooraanstaande Britse toneelschrijvers van na de Tweede Wereldoorlog
Toen Harold Pinter in 2005 de Nobelprijs voor de Literatuur aanvaardde, verwees hij naar "een enorm tapijt van leugens waar we ons mee voeden". Hij vroeg waarom "de systematische wreedheid, de wijdverspreide gruweldaden, de meedogenloze onderdrukking van het onafhankelijke denken" van de Sovjetunie tot in het Westen welbekend waren, terwijl de keizerlijke misdaden in Amerika "nooit gebeurden … zelfs terwijl ze gebeurden, gebeurden ze nooit . ".
In zijn onthullingen over frauduleuze oorlogen (Afghanistan, Irak, Libië, Syrië) en de  leugens van regeringen (de Chagos-eilanden), heeft WikiLeaks ons laten zien hoe het imperiale spel in de 21e eeuw wordt gespeeld. Dat is de reden waarom Assange in levensgevaar verkeert.
Zeven jaar geleden, in Sydney, ontmoette ik (John Pilger) een prominent liberaal lid van het federale parlement, Malcolm Turnbull.
Malcolm Bligh Turnbull is een Australisch politicus van de Liberal Party. Sinds 15 september 2015 is hij de 29e premier van Australië. Eerder was Turnbull van 2013 tot 2015 minister voor Communicatie onder premier Tony Abbott
Ik wilde hem vragen om een ​​brief van Gareth Peirce, de advocaat van Assange, af te geven aan de regering. We hadden het over zijn beroemde overwinning – in de jaren tachtig, toen hij als jonge advocaat de pogingen van de Britse regering om de vrijheid van meningsuiting te onderdrukken en de publicatie van het boek Spycatcher te bestrijden, hij had ook had gestreden, op zijn manier, een Wikileaks van die tijd, voor het openbaarde de misdaden van de staatsmacht.
De premier van Australië was toen (zeven jaar geleden) Julia Gillard, een politicus van de Labour Party die WikiLeaks "illegaal" had verklaard en het paspoort van Assange wilde afnemen – tot haar werd verteld dat ze dit niet kon: dat Assange geen misdaad had begaan: dat WikiLeaks een uitgever is, wiens werk werd beschermd krachtens artikel 19 van de Universele Verklaring van de Rechten van de Mens, waartoe Australië één van de oorspronkelijke ondertekenaars was.
Door afscheid te nemen van Assange, een Australische burger en zijn vervolging – voorlopig – te stoppen , dwong het buitensporige gedrag van premier Gillard, de  erkenning, onder internationaal recht, als een politieke vluchteling wiens leven in gevaar was. Ecuador beriep zich op de Conventie van 1951 en schonk Assange zijn toevlucht in haar ambassade in Londen.
Gillard is onlangs verschenen in een optreden met Hillary Clinton; ze worden gezien als baanbrekende feministen.
Als er iets is om Gillard eraan te herinneren, zij gaf een oorlogszuchtige, gênante toespraak  voor het Amerikaanse Congres kort nadat ze de illegale intrekking van Julian's paspoort eiste.
Malcolm Turnbull is nu de premier van Australië. De vader van Julian Assange heeft geschreven aan Turnbull. Het is een aangrijpende brief waarin hij de premier heeft opgeroepen om zijn zoon mee naar huis te mogen nemen. Hij verwijst naar de reële mogelijkheid van een tragedie.
Ik (John Pilger) heb Assange's gezondheid zien verslechteren in zijn jaren van opsluiting zonder zonlicht. Hij heeft een meedogenloze hoest opgelopen, maar het is hem niet eens toegestaan ​​naar een ziekenhuis te gaan voor een röntgenfoto.
Malcolm Turnbull kan zwijgen. Of hij kan van deze gelegenheid gebruik maken en de diplomatieke invloed van zijn regering gebruiken om het leven van een een Australische burger te verdedigen, wiens moedige openbare dienstverlening wordt erkend door talloze mensen over de hele wereld. Hij kan Julian Assange naar huis brengen.
Red: de toekomst zal het leren, ook zal de toekomst uitwijzen hoe met deze misdadige, zognaamde, pseudo democratieën, in westerse landen, om te gaan en de immense schuld die zij op zich hebben genomen om de halve wereldbevolking te vermoorden, verkrachten, verslepen en hun alles af te pakken!
Bron: http://www.informationclearinghouse/speech John Pilger, Wikipedia, Youtube, Jinek, NOS, Alamy Stock foto.