Read Time:
2 Minute, 16 Second
Manifest – gele hesjes – Frankrijk
MANIFEST
Sinds 17 november 2018, van het kleinste dorp, tot de grootste stad in Frankrijk, zijn we opgestaan ​​tegen deze diep gewelddadige, onrechtvaardige en ondraaglijke samenleving.
We laten ons niet los! We komen in opstand tegen het dierbare leven, onzekerheid en ellende. We willen dat onze geliefden, onze families en onze kinderen in waardigheid kunnen leven. Zesentwintig miljardairs hebben net zoveel als de helft van de mensheid, het is onaanvaardbaar.
Laten we de rijkdom delen en niet de ellende! Laten we eindigen met sociale ongelijkheden! Wij eisen de onmiddellijke verhoging van de lonen, sociale minima, toelagen en pensioenen, het onvoorwaardelijke recht op huisvesting en gezondheid, op onderwijs, gratis openbare diensten en voor iedereen.
Het is voor al deze rechten dat we de dagelijkse rotondes bezetten, dat we acties, demonstraties organiseren en dat we overal bespreken. Met onze gele hesjes, spreken wij , wij die nooit hebben gesproken.
En wat is de reactie van de overheid? Onderdrukking, minachting, denigratie. De doden en honderden gewonden, het massale gebruik van wapens die verminken, eroderen, verwonden en traumatiseren. Meer dan 1.000 mensen werden willekeurig veroordeeld en gevangengezet. En nu is de nieuwe wet die "anti-gele vesten" wordt genoemd, gewoon om te voorkomen dat we demonstreren. We veroordelen al het geweld tegen demonstranten komend van de ordehandhavers of gewelddadige groepen. Niets van al dit zal ons stoppen! Zich manifesteren en demonstreren is een fundamenteel recht. Stop straffeloosheid door de politie! Amnestie voor alle slachtoffers van repressie!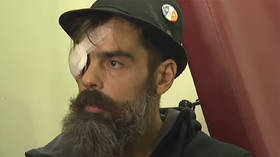 De ware democratie oefenen we uit, in onze vergaderingen, dit is het niet te zien op tv-programma's of in rondetafelgesprekken met Macron.
Na ons niets dan beledigd te behandeld hebben, zet hij (Macron) ons nu weg, als een haatdragende fascistische en xenofobe menigte. Maar we zijn het tegenovergestelde: noch racistisch, noch seksistisch, noch homofoob, we zijn er trots op samen te zijn met onze verschillen om een ​​samenleving van solidariteit op te bouwen.
Dit is de boodschap van de Gele hesjes, die de rest van Europa zou moeten navolgen, de gele vesten in België, Nederland en de rest.
Bron: /resistance71.wordpress.com, RT