I already did some investigation back in 2014 https://anonhq.com/the-dark-star-rises-the-new-osama-bin-laden-made-by-the-usa-fiction-or-deception/, when he got "hot and famous", in the Western world, where many poor immigrants, from various ME countries or Morroccans, Turks etc., living a poor and difficult life in Europe got inspired and went to join his terror group ISIS, to fight the "evil" Assad and the Syrian and Iraqi people. Sadam was eliminated already and Libya in ruins. But Assad didn't want to give up, the Wahabi and Zionist states whispered in the ears of the US and EU governments that they should remove him, because, then all the wealth of Syria, the oil was theirs and the Zionist state of Israel, could achieve their dream "a greater Israel"and of course, very important the water, which is scarce in the Middle-east.
According to various MSM outlets in the US: (Fox and CNN) ongoing rumors of Baghdadi's death have persisted, but he is most likely still alive. The United States is offering up to $25 million for any credible information that leads to his capture. Baghdadi also suffers from diabetes, high blood pressure and injuries sustained during an airstrike years ago. Wow some information we get here, he is sick they say and wounded in an airstrike, really? It's easy to spend 25 million for an "illusion", who was all part of the plan.
Some more credible information comes from the Burning Blogger of Bedlam:
In June 2014, a group of armed militants and extremists made their dramatic journey across the Syrian border into Iraq, quickly capturing Mosul and Baiji and almost reaching the capital Baghdad.
The group possessed convoys of identical Toyota trucks and the kind of arsenal some countries in the region would be envious of. The media was flooded with footage of drive-by shootings, large-scale death marches, mass executions and mass graves. Any Iraqi soldier captured was executed.
That incursion of the Islamic State (IS) brigades into Iraq was part of a planned military-intelligence operation supported covertly by various states.
The jihadists at some point appropriated entire truckloads of American humvees; they acquired helicopters, tanks, and artillery. They photographed and filmed themselves, openly broadcasting what they were doing all over social media. In spite of this, no attempt was made by the US or anyone else to stop them – not until after the group had already taken over entire cities or towns and begun its bloody crusade.
The "Islamic State" was declared; a 'caliphate' established by brutal jihadism, its expressed goal to establish a Salafist form of government over the region of Syria, Lebanon, Jordan, Iraq and Southern Turkey.
The group's leader, the elusive Abu Bakr al-Baghdadi, was declared "caliph" and – I quote – "leader for Muslims everywhere." It was an insane claim, but it was disseminated far and wide. All of this seemed to have happened in the relative blink of an eye.
Then there was 2015 the partly takeover of Syria now the endgame in Bagouz and Idlib. Rumours have it that high ranking ISIS members are evacuted, after paying ransom to their "masters" the US and Kurds. To be resettled in Europe, like the "White Helmets", after they were evacuted by the Zionist State Israel. Apparently they have no shame anymore, the Zionist state and their partners the US, this we can see in Venezulea, where they dont even "take the effort anymore" for hiding their plans, they just pick a new President and pressure the "democratic chosen Maduro" to step down otherwise they will bomb him. Same as in Syria, Iraq, Libya, and Afghanistan.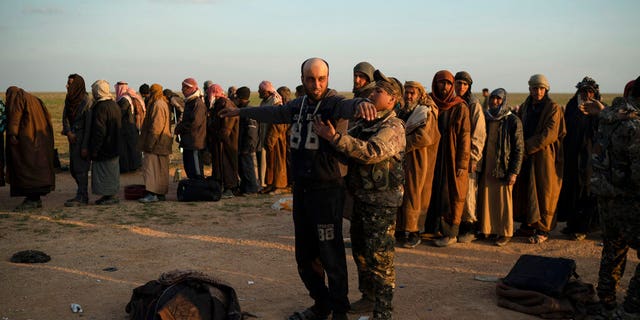 Many people fear a new "great war" will emerge in the ME and Latin America. The governments in the US and EU are controlled by the "Deep-state = weaponindustry", the Zionist state of Israel, which are dividing the people in Western countries into extreme fascism and extreme socialism, an easy target to look the other way, when the "new "war is coming, to establish their one-world government.
Source: theburningbloggerofbedlam.wordpress.com, Freesuriyah, FOX, CNN, Anonymous, AP,