Read Time:
3 Minute, 7 Second
During my visit to Syria, I met Heike Weber, a German lady from Berlin, who lives nearly for forthy years in Syria. She lives in a very beautiful "Syrian style" house in the Christian area of Damascus – called Bab Touma.
She had a thriving business, together with her children, in Damascus, a fashion designer workshop, with approximately forthy, mainly women (syrian), working for her. The majority of the women came from rural area's, just outside Damascus, like Jobar, Ghouta or Harasta.
When the conflict started, a lot of women stopped working, either being killed, or fled to Europe. The main reason behind that is what I persume, the men of the women collaborated with the foreign terrorist, partly, or because of, the fighting, lost their homes and after the call of Frau Merkel and the rest of the EU countries, in need of cheap labour, went on the migration journey to Europe!
Heike showed me pictures of her business, before 2011, she owned a big shop, a workshop and regurarly held fashions shows. All her designs (which she designed by herself) were handmade. Among her customers were Queen Noor of Jordan, Queen Sophia of Greece, the wife of the Presidents of Tunesia and Algeria, also Egypt and many more celebrities, of which most of them are gone, ousted or hated by the West.
She even had TV shows on the Syrian TV, Lebanese and many more. She knew famous icons like https://nl.wikipedia.org/wiki/Mahmoed_Darwiesj, but then the west and the US, in cooperation with the KSA and Qatar, decided to execute the plan of George J.W. Bush Jr. (just the frontman of the Illuminati or shadow government) and waged a war on Syria. Syria is one of the 7 countries on the list of the Axes of Evil plan/speech (George Bush Jr. 2002) and destroyed Syria, by sending foreign jihadist, first deployed in Libya and then to Syria.
In 2011, the EU, together with the US imposed sanctions on Syria, they say on the government, but that's rubbish, we all know that the imposed sanctions affect the people and not governments or wealthy people.
So, Heike Weber lost everything, her shop, her workshop and income, due to the sanctions. She bought her material, like threads, sewing material, fabrics and other material in Europe or other countries. This is now impossible, also she lost her workers.
This is how sanctions work, a punishment for the "common" people and not for governments. The whole economy is affected, so Syrians and residents are affected. First there was war and now they are trying to kill the people by an "economic" war. Think about the tanker; British commandos seized a supertanker suspected to be smuggling Iranian oil to Syria in a night-time raid that has triggered a diplomatic row between Tehran and the UK. But all this propagnda and "rows" in politics are show, the oil is needed for the Syrian people, for petrol in their cars, to do business etc..etc… So, governments like the EU and US spread propaganda but hitting the people of Syria, or try to kill them in another way, without money in this world it's hard to have a life!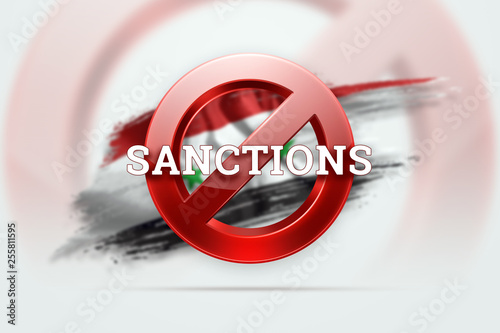 Bron: Heike Weber, Wikipedia, Youtube, photo's; Claudius Lucassen