DONEER EN STEUN ONS WERK
DONATE AND SUPPORT US:
IBAN: NL10 SNSB 0902 6349 33
Er zijn verschillende versies, van wat er gebeurd zou kunnen zijn met Abu-Bakr-al-Bagdadi. Hieronder zijn er een paar beschreven.
General Abdolkarim Khalaf (Irakese leger) zei op de nieuwszender: Sky Irak, dat al-Baghadi uit de westelijke delen van Mosul naar de Syrische grens, samen met een aantal hooggeplaatste IS bevelhebbers is gevlucht.
Khalaf zei dat al-Bagdadi Mosul enige tijd geleden al heeft verlaten en geen contact heeft met de commandanten die in Mosul zijn gebleven, deze commandanten zijn meestal onervaren in oorlogsvoering.
Toch geeft deze informatie geen exacte datum of de bestemming van de geheime reis die Bagdadi zou hebben gemaakt.
Vorige maand meldden verschillende nieuwszenders ook al, dat de IS leider uit Syrië, Raqqa, was gevlucht.
Een anonieme bron, beweerde in eerdere rapporten dat al-Bagdadi  in de stad  al-Ba'ajaj is, in West-Mosul , hij zei: "al-Bagdadi is naar de stad Raqqa gegaan, de hoofdstad van het kalifaat in Syrië.
Hij voegde daaraan eraan toe dat de provincie Nineveh (in Irak) van  alle kanten belegerd is door het Iraakse leger en haar bondgenoten en alle corridors grens tussen Syrië en Turkije gesloten zijn en al-Bagdadi  niet is verhuisd naar Irak uit Syrië, omdat het onmogelijk is.
Zijn opmerkingen kwamen nadat lokale bronnen eerder beweerde, afgelopen januari, dat het konvooi van al-Bagdadi en andere IS kopstukken  het doelwit was van de luchtmacht (Irak) , het konvooi was op  weg van uit Syrië naar Irak en dat hij daarbij gewond geraakt is.
Een andere Iraakse commandant zei dat al-Bagdadi,  vastzit in de Noord-Iraakse stad Mosul, na zijn talrijke pogingen daar te ontsnappen, mislukt zijn, omdat het belegerd is door de Iraakse strijdkrachten.
Al dit nieuws, met haar tegenstrijdige berichten zijn verschenen in de afgelopen maanden. Over het lot van de IS leider Al-Bagdadi, maar er kan niets met zekerheid gezegd worden, ook zijn er geen tastbare bewijzen.
Een andere bron: een woordvoerder van Hashd al-Shaabi (een vrijwilliger bij de Iraakse troepen) Ahmad al-Assadi zei  half november 2016, dat uit de laatste informatie en intel blijkt dat al-Bagdadi  nog steeds in Irak is en zich ergens buiten Mosul schuil houdt.
"De terrorist Abu- Bakr al-Baghadi, is in een gebied tussen de stad Tal Afar ( 54 km Noordwesten van Mosul) en de stad al-Baaj (157 km naar het zuid-westen van Mosul)," al- Assadi zei dit, in een interview tegen het Iraakse al-Ma'louma persbureau.

Verder zei hij als bijkomende informatie dat: op basis van een overeenkomst eerder gemaakt, tussen de het Iraakse  leger en de Koerdische Peshmarga troepen, zij geen deel uit zullen maken van de bevrijding van de twee steden :Tal Afar en Mosul, zij zullen helpen  de belegering aan de randen van de twee steden te handhaven. Verschillende eenheden van de strijdkrachten in Irak, met inbegrip van het leger, de politie en anti-terrorisme-troepen, zullen de  aanval leiden.
Deze verklaring van Al-Assadi is de laatste in een reeks van rapporten over het lot van de beruchte IS leider. Tijdens de laatste paar maanden hebben veel tegenstrijdige berichten de ronde gedaan in de media over de gezondheidstoestand en de locatie van Abu Bakr Al-Bagdadi .
Een prominente Iraakse militaire analist zei eind oktober 2016,  dat Riyad en Ankara een plan hadden uitgebroed om al-Bagdadi vanuit Mosul naar Libië over te brengen, maar de massale aanwezigheid van de strijdkrachten en de Russische luchtmacht langs de aangrenzende gebieden van Irak en Syrië hebben dit plan onmogelijk gemaakt!
"De twee landen: Turkije en Saoedi Arabië  bezig zijn met een plan om al-Bagdadi een vrijgeleide te geven, vanuit  Mosul, via  Kirkuk, of via het noordelijke al-Qa'em en al-Ratba, om Deir Ezzour heen, in Syrië , om hem vervolgens naar Turkije te brengen en hem uiteindelijk over te dragen aan Libië, vertelde  Safa al-A'asam  aan het al-Ma'louma persbureau.
Hij voegde eraan toe dat  de top van IS tot de conclusie is  gekomen, dat de overdracht van al-Bagdadi door de regio Tal Afar, in de omgeving van Raqqa in Syrië ook onmogelijk is, gezien de massale aanwezigheid van Russische strijdkrachten, zei Hashd al-Shaabi. Hij zei verder dat in de zuidelijke  buurt van de wijk Baaj, zuid-westelijk van Mosul en in het noordwesten van de provincie Nineve het ook onmogelijk is, daar worden ook talrijke vluchten uitgevoerd door de Russische luchtmacht over de Syrische grensgebieden met Irak.
IS werkt nu aan een plan om via een andere weg, in het Irakese-Syrische grensgebied, om al-Bagdadi te laten vluchten naar Turkije en vervolgens naar Libië of misschien wel een ander land, als die te vinden zijn, zei al-A'asam.
In een andere verklaringen en rapporten vanuit West-Irak eerder in oktober 2016, werd  gezegd dat al-Bagdadi is bezweken aan zijn fatale verwondingen en stierf in een gebied langs de grens met Syrië.
"Al-Bagdadi was ernstig gewond in de strijd om Al-Anbar  in West-Irak afgelopen september 2016 " en zijn wonden waren zo dodelijk, vertelde een lokale Iraakse bron aan het Russische Sputnik half oktober 2016, dat hij bezweken is.
De bron zei verder dat al-Bagdadi gestorven zou zijn in de stad Al-Baaj  100 km  ten westen van Mosul in de buurt van de grens met Syrië, maar zijn dood is verborgen gehouden om het moreel onder IS hoog te houden.
Een ander rapport ook in oktober 2016, beweerde dat het "nauwkeurige informatie"  had dat  Baghdadi's eten vergiftigd was door onbekende personen in het district Baaj.

Tal van rapporten hebben vanaf september en oktober 2016, aangegeven dat al-Baghdadi en andere top commandanten van IS , de evacuatie van Mosul afwachtte, voor de aanval het Iraakse leger om de stad terug te nemen.
De exacte locatie van al-Baghdadi is een onderwerp van speculatie. Maar de enigste zekerheid is dat hij verbleef of verblijft in de stad Mosul!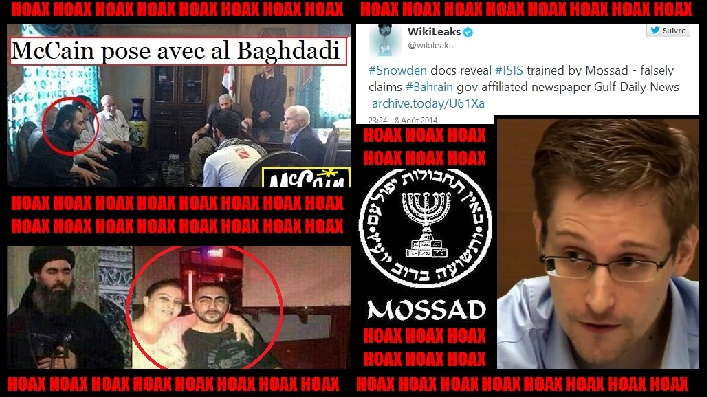 Verder blijft er, met goed gedocumenteerde bewijzen, dat Al-Bagdadi eigenlijk Shimon Elliot is, Bakr-al-Bagdadi een self-made man door zijn supporters bij de CIA. John McCain zou hem hebben ontmoet in 2013, voor zijn transformatie tot Abu-Bakr-al-Bagdadi, hij moest een terroristenleider worden net als Osama bin-Laden was…Een theorie, die steeds meer bewaarheid lijkt te worden!
Wordt vervolgd…
Bron: Fars News, al-Ma'louma persbureau. Sky News Irak