0
0
Read Time:
6 Minute, 54 Second
DONEER EN STEUN ONS WERK
DONATE AND SUPPORT US:
IBAN: NL10 SNSB 0902 6349 33
Here he is again, the SPY who went to Syria, later to Ukraine and now supporting the Kurds, who wanted, or still wanst an independent state. He is for sure not welcome anymore in Syria, he went there with a so-called peace-mission, part one of the story read here: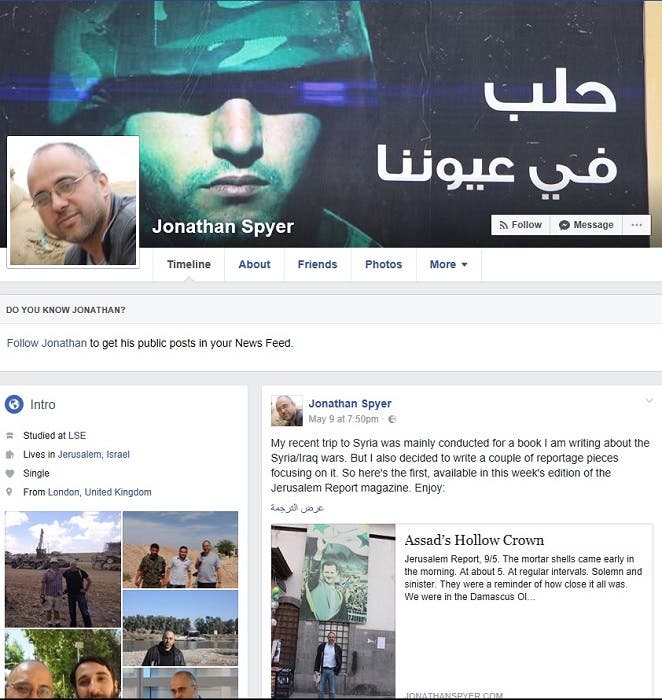 After that he went to the Ukraine, of course, a huge supporter of the Fascist-government there, part two of the story:
Andrew Jonathan Spyer – the Israelian spy who went to Syria now went to Ukraine
Spyer and Franzman with the Ukrainian Volunteer Force in Donbass
Now it seems, he is speaking about his big secret, saying he was gambling with his life and admits he was infiltrating in Syria, his days are indeed outnumbered, when he wants to return to Syria or Iraq!
Israeli journalist describes reporting from Syria and Iraq, hiding his secret
British-Israeli Jonathan Spyer knows he's been gambling with his life, but says getting the story is worth it
Jonathan Spyer had been behind enemy lines many times before, carefully guarding his dangerous secret. But on a fine Spring day in Aleppo this year, in an area controlled by the Syrian regime, he thought his cover might have finally been blown — not by government intelligence agents or Islamist rebels, but by a fellow Brit just trying to have a nice chat over coffee.
Spyer, a veteran analyst and Jerusalem-based journalist, has been covering the rumble and crumble of Iraq and Syria into vast territories of stateless chaos for the past six years.
Those two conflicts have been responsible for the deaths of a great number of journalists, but for Spyer, there was an extra layer of danger: he's British-born, but is also an Israeli.
Who wants to think that because of your citizenship, you can't cover what you regard as the most important story of the 21st century," said Spyer, in an interview with The Times of Israel.
Spyer's work has appeared in Foreign Policy, Janes Intelligence Review, The Wall Street Journal, The Guardian and  The Atlantic, among others.
In his most recent trip to Syria, he managed to get into the regime-controlled area by joining a propaganda trip sponsored by the government, where he was even able to interview a few ministers.
Spyer used somewhat of a false identity to get onto the trip, and agreed that it was "gross incompetence" on the part of the Syrian authorities that his real identity was not uncovered at any point.
The closest moment came when his fellow Brit, one of a number of Assad-supporting internationals invited to Damascus by the regime, leaned in and said, "There are rumors of Zionist infiltrators on this trip."
"Oh f***, is this guy toying with me," Spyer said he thought at the time, and considered making a quick dash for nearby Kurdish-held territory.
Turns out that it was just polite chatter.
Spyer understands, however, that should someone have thought he was an Israeli agent, he may have disappeared in a Syrian jail cell.
Spyer agreed that he was taking a gamble with his life.
"If you put it into the cold logic of the gamble, getting published in The Wall Street Journal versus death, well, that's obviously stupid," he said.
But he noted that all war reporters risk their lives, Israeli or not.
"I did it. People do it. On some kind of level, it is worth it, because I think the Syria story is the major news story of the century so far, and we've got a ringside seat at it," he said.
Spyer said he has been to Syria about eight to nine times and Iraq five to six times in recent years, generally for around two-week periods. Half of that time he said he was in the Kurdish-held areas, where being an Israeli is acceptable.
The British-Israeli said there is a big difference between reporting as an Israeli in Iraq or in Syria.
"When you're in Iraq, people don't think about Israel that much. It doesn't concern them very much," Spyer said.
When interviewing an officer of an Iranian-backed militia in Baghdad, he said they just viewed him as a British journalist for a Western outlet and didn't think more about it.
On the other hand, in Syria, a direct neighbor of Israel, fear of infiltration from the Jewish state is palpable, he said.
"In that pro-regime, pro-Hezbollah world, they are so busy talking about [Israeli] infiltrators," Spyer said, referring to the Iranian-backed terror group in Lebanon, which is fighting on the side of the regime in Syria.
He added with a chuckle, "They're talking about it so much that they didn't realize the 'infiltrator' sitting next to them."
However, he noted, when sneaking into Syria to work among the rebels, there was no need to create a fake identity. "It was so chaotic, you just turn up," he said.
"On the regime side it's quite different. They are obsessed with intelligence organizations. There you have to be smart, careful and have a water-tight backstory," he said.
Spyer said he finds the fact that other non-Israelis might more safely cover the same issues a moral matter. "Practicalities aside, it's deeply wrong that a person can't cover this stuff and have Israeli citizenship," he said.
He noted that Arab journalists can freely work in Israel for Arabic media, but the reciprocal courtesy is not extended to their Israeli counterparts.
While working in enemy territory, Spyer said he doesn't reveal his Israeli identity even to other journalist colleagues for fear it may endanger them. He also said that's not really an issue because he prefers to work solo.
In his new book, "Days of the Fall: A Reporter's Journey in the Syria and Iraq Wars," published recently by Routledge, Spyer takes the reader on his personal journey through the conflicts in Syria and Iraq, zooming in and out of scenes he lived through, relaying the gritty details of how militants, soldiers, terrorists and citizens, talked, dressed and acted, while always providing the analysis to put the scenes into the larger context.
It's an up-close and visceral account of key events of the conflicts — such as the opening of the battle for Aleppo, the fall of Mount Sinjar where the Yazidi minority was massacred and enslaved by ISIS.
A constant source of drama and tension throughout the narrative is that fact of Spyer's dual British-Israeli citizenship.
Will his dark, Jewish secret be discovered by Shiite militants in Iraq, Sunni Islamists in Syria, or perhaps by the Syrian government while he participates in a state-sponsored tour of Damascus?
Through a mix of caution, deception, and beard-growing, Spyer manages to navigate two conflicts that have claimed the lives of many journalists.
The conflicts in Iraq and Syria, said Spyer, are likely to remain "frozen" — similar to the conflict in Eastern Ukraine — in the coming years, with dug-in factions competing for more control.
Spyer said his book will be something akin to a "first draft of history," which one day he hopes historians will use to help explain how Syria and Iraq, once pillars of the region, came apart at the seams. If so, his high-risk gamble will have been all the more worthwhile.
Source: https://freesuriyah.eu/?p=837
https://www.timesofisrael.com/israeli-journalist-describes-reporting-from-syria-and-iraq-hiding-his-secret/