Read Time:
4 Minute, 32 Second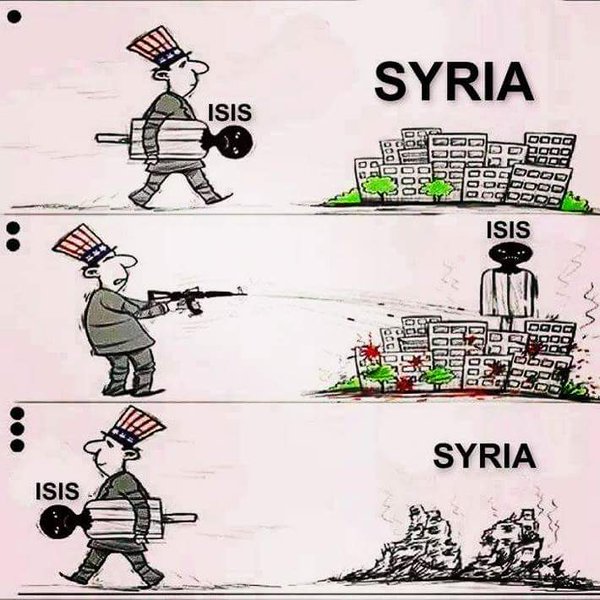 Of course, the US and it's allies need this so-called "victory" over Daesh/ISIS. Their own man-made mercenaries, who were out of control and Trump is pre-occupied with a new regime-change in Venezuela. Also, his great "pal" , the Zionists leader Netanyahu, is on the "other front", trying to "steal" the Golan-heights from Syria, which they illegally, since 1967, occupy, despite all resolutions from the UN, but of course these leaders don't give a damn about the UN or International Law, like the Western European countries, the Netherlands, Belgium, Germany, Norway, Sweden, Denmark and France, allies from the US. France were the Rothshild "toy-boy" Macron even orders to shoot his own people (the Yellow Vest uprising). The European Spring, not a "fake"one, but a real one is happening!
Now they claimed victory again, ringing any bells? 2003 Iraq? Bush said "we won", what the hell he won? Just "fake" media propaganda, first you destroy a country and then you claim victory, so it looks good for your own public and the "boys and girls" who joined the army, the army of destructions and death, only invading other countries with the same "mantra", it's to ensure our own security and "freedom". Of course, the word democracy is (mis)used very often. The Western European countries and the US are nothing more than a bunch of dictarorial states, united in the EU/NATO. Ready to invade any country, either for wealth (oil/gas/diamonds), or if you don't comply with their plans, they invade your country, first putting "economic"sanctions, to make the people poor and when people get poor they will call for revolution, that's the tactic!
According to various MSM outlets:

(BAGHOUZ, Syria) — U.S.-backed forces declared military victory over the Islamic State group in Syria on Saturday after liberating the last pocket of territory held by the militants, marking the end of a brutal self-styled caliphate the group carved out in large parts of Iraq and Syria in 2014.

After weeks of heavy fighting, the tent camp where the militants had made their final stand in the village of Baghouz was bombed to shreds. A field pitted with abandoned trenches and bomb craters, and littered with scorched tents and the twisted metal carcasses of vehicles, was all that remained. Half buried in the dirt was a tattered shred of IS's notorious black flag, while a giant yellow flag belonging to the Syrian Democratic Forces fluttered atop a shell-pocked building.
Here they are again the Kurds, now used by the US and her Western allies, after this victory they will be left "alone" and their dream to establish a Kurdisch State will be stopped by Turkey again.
They rather should have stayed with the SAA and Iraqi army/government, to really destroy ISIS and build a new Syria and Iraq!
This, is the "free" Western world, which turned into dictatorial autcracy societies, without morals on good or bad. Propaganda is more important than the truth, but all empires go down!
Source; Freesuriyah,.jacques-tourtaux.com , Getty Images/AFP, CNN, NU.nl