8 June 2022
Wijst op een bredere westerse betrokkenheid bij de oorlog in Oekraïne en associatie met het neonazistische bataljon
[Dit artikel is gebaseerd op verslaggeving uit de eerste hand door een journalist wiens verslaggeving mogelijk werd gemaakt door de DPR en Russische militaire bescherming.-Editors]
Links tussen de ruïnes van het hoofdkwartier van het Azov-bataljon in Mariupol lagen de visitekaartjes van de Duitse ambassade. Een daarvan was van een attaché genaamd Michael Faul, een Canadese kolonel genaamd kolonel Brian Irwin en de medewerker van de Franse ambassade in Kiev, eerste secretaris Christophe Boursin.
MICHAEL FAUL: Volgens de volgende informatie werkt Faul nu in het VK: "Michael Faul werkt bij de Duitse ambassade in Londen en het consulaat-generaal Edinburgh, een federaal bedrijf met naar schatting 766 werknemers." Dus hij is overgeplaatst of heeft daar altijd gewerkt, waarschijnlijk voor MI6, de Britse geheime dienst. Laatste update: 3/10/2022 5:43 PM (verplaats 3 maart naar VK), EMAIL: m***@london.diplo.de.
KOLONEL BRIAN IRWIN: Dit is erg interessant; over hem is het volgende bekend:
Kolonel Robert Brian Irwin
Ontario, Canada
Onderscheidingen voor Verdienstelijke Dienst – Militaire Divisie
Verdienstelijk dienstkruis
Uitgegeven: oktober 16, 2019
Geïnvesteerd op: 27 mei 2021
Rang: Kolonel
Als Canada's defensieattaché voor Oekraïne van augustus 2016 tot juli 2019, bewees kolonel Irwin een belangrijke rol bij het bereiken van de doelstellingen van het buitenlands beleid van Canada. Hij werd al snel een invloedrijk en belangrijk lid van de [Canadese] missie [in Oekraïne], waar hij de opeenvolgende commandanten van de gezamenlijke taskforce adviseerde, hervorming van de veiligheidssector promootte en actief bijdroeg aan de militaire samenwerking tussen de twee naties. Hij staat bekend om zijn professionaliteit en diplomatie en heeft een onmiskenbare invloed gehad op de operaties van de Canadese strijdkrachten in Oekraïne.
De waarschijnlijke authenticiteit van de documenten wordt versterkt door het feit dat Irwin in 2018 werd gefotografeerd terwijl hij de hand schudde met een lid van het Azov-bataljon, wat duidt op steun van de Canadese regering voor de neonazistische outfit.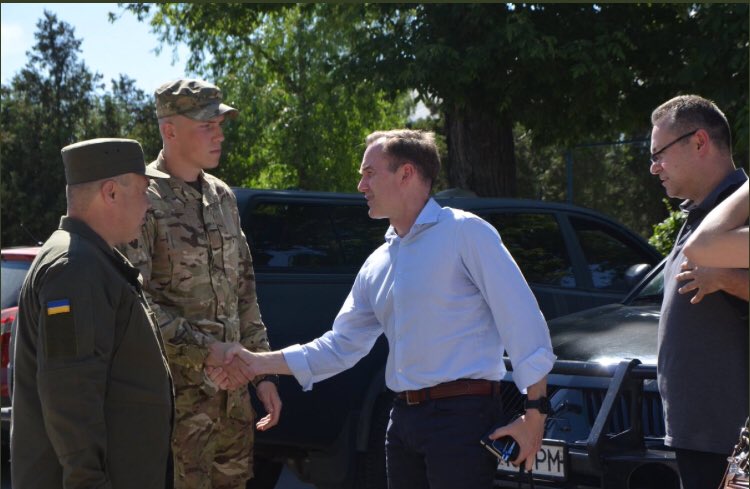 Het derde gevonden visitekaartje was van de adjunct-eerste secretaris van de Franse ambassade in Kiev, Oekraïne, Christophe Boursin. Er zijn geen foto's van hem, maar mogelijk is hij nog in Kiev.
Samen met de visitekaartjes die in het hoofdkwartier van het Azov-bataljon werden gevonden, waren nazi-insignes, die de bewondering van het bataljon voor Adolf Hitler en de oorspronkelijke Duitse nazi's duidelijk maakten.
De documenten werden ontdekt tijdens mijn tweede bezoek aan Mariupol. Mijn laatste bezoek, zo'n twee weken geleden, was een meer emotionele reis, omdat er zware beschietingen, raketten en gevechten rond de staalfabriek van Azov plaatsvonden. De haven was gedeeltelijk vrijgemaakt en ook daar kon je beschietingen horen.
De bemanningen van veel schepen werden gegijzeld door Azov. De overgebleven inwoners van de stad liepen rond, met 'de gruwelijke oorlogservaring in hun ogen', op zoek naar schoon water en in de rij voor voedsel, dat werd uitgedeeld door het Russische leger in samenwerking met de Volksrepubliek Donetsk.
Dus ik ging twee weken later terug en sindsdien is er veel gebeurd. De neonazistische Azov-militie had zich overgegeven en de overgebleven soldaten zijn gevangengenomen en met bussen naar de gevangenis vervoerd. Ze zullen hopelijk een eerlijk proces krijgen, in de DPR of in Rusland. Zoals de jihadisten in Syrië overkwamen, werden ze vanuit Oost-Aleppo en Ghouta naar Idlib vervoerd, dat tot nu toe (helaas) voor een groot deel nog een bolwerk is van Al-Qaeda of Hayat-Tahrir-as-Sham.
De haven van Marioepol
Volgens het Russische Ministerie van Defensie, waarvan we een update ontvingen, is de haven nu bevrijd en ontmijnd:
"Specialisten van de Zwarte Zeevloot en Genietroepen hebben de ontmijning van het grondgebied van de haven van Mariupol voltooid. Meer dan 12,000 explosieve voorwerpen en wapens die door Oekraïense radicalen waren achtergelaten, werden gevonden en geneutraliseerd. De aanloopkanalen en binnenwateren werden bevrijd van gezonken schepen en andere navigatieobstakels, en de haven werd gedemilitariseerd. In totaal werden ruim 1.5 miljoen vierkante meter wateroppervlak, 18 ligplaatsen en 32 schepen geïnspecteerd. In totaal hebben de specialisten van het detachement van het International Mine Action Centre sinds het begin van hun werk meer dan duizend explosieve objecten vernietigd."
Westerse media hebben beweerd dat waar de Russen waren, ze een spoor van dood en verderf hebben achtergelaten; maar van wat ik tot nu toe heb meegemaakt in Volnovakha en Mariupol, is het pad voornamelijk van het Oekraïense leger en de militie.
Sommige openbare voorzieningen in de steden werkten weer. Het stadsplein werd schoongemaakt, we hebben zelfs nog even een kijkje genomen in de dierentuin, waar de dieren nog leefden. De westerse media brengen weer tegengestelde verhalen.
Ook bezocht ik de op een na grootste staalfabriek in Mariupol, de staalfabriek Illich, de op een na grootste fabriek van Mariupol die door de 36e Russische Brigade werd heroverd. De staalfabriek was bijna volledig verwoest en ik geloof dat het niet meer herbouwd kan worden, maar zoals Dennis Pushilin (de leider van de DPR) ons op het plein van Mariupol vertelde: "Elk gebouw zal worden herbouwd of opnieuw gebouwd", dus je weet maar nooit.
De fabriek produceerde een breed scala aan warmgewalst en koudgewalst staal, onder meer voor scheepsbouw, oliepijpleidingen, boorgaspijpleidingen en waterpijpleidingen. Het bedrijf is het enige bedrijf in Oekraïne dat gegalvaniseerde stalen tanks en tanks voor vloeibaar gemaakt gas produceert.
De producten van het bedrijf zijn gecertificeerd door internationale classificatiebureaus; zoals Lloyd's Register (VK, Duitsland), US Bureau of Naval Personnel en door het Marine Register of Navigation (Rusland), evenals door het Duitse certificeringscentrum TTSU. Het bedrijf exporteerde de producten naar meer dan 50 landen over de hele wereld.
In april veroverde het Russische leger de op een na grootste staalfabriek in Marioepol. Wat ze vonden was een groot wrak en in de berging stonden (zoals te zien is in de fotogalerij) zelfgemaakte rijdende auto's met machinegeweren erop. Deze vorm van oorlogvoering werd populair in de oorlogen in Syrië en Irak, geïntroduceerd door jihadisten die door het Westen werden gesponsord.
Het Oekraïense leger maakte zijn militaire onderkomen in de fabriek, zoals in de Azov Steel-fabriek, en stuurde de arbeiders naar huis of hield ze gegijzeld en gebruikte ze als menselijk schild, zoals overal in Oekraïne gebeurde, vooral in Mariupol, waar veel aanhangers van de Azov regiment kon worden gevonden.
In de kelders van de Illich-fabriek stonden symbolen van deze nazi-ideologie, symbolen die in het Westen verboden zijn, maar nu worden genegeerd door westerse regeringen en zelfs alle regeringsleiders van de Europese Unie (EU). "SLAVA OEKRANE" wat letterlijk betekent: HEIL (HEIL betekent glorie) OEKRANE." Waar hebben we deze slogan eerder gehoord?
Het meest schokkende deel van de dag was echter het bezoek aan een van de voormalige hoofdkwartieren van het Azov-bataljon. Het was niet alleen een kantoor, maar ook een huisvesting en een opleidingscentrum. Zelfs jonge kinderen werden daar getraind met geweren en geweren.
Aan het achtergebleven materiaal kon je duidelijk de nazi-ideologie zien, Hitler-schilderijen, SS-stickers, boeken en boekjes met hakenkruizen en brochures en handleidingen van de NAVO, gevuld met instructies – samen met de visitekaartjes van de NAVO-adviseurs en westerse ambtenaren.
Dit maakte de westerse medeplichtigheid aan de misdaden van de Oekraïners en de onrechtvaardigheid van de oorlog in het algemeen duidelijk.
Franse wapens gebruikt om burgers te doden in Donetsk: Zelensky geloften om regio in ruïne te veranderen (CAM redactie aanvulling)
Donbass Insider meldde op 7 juni dat French Caesar kanonnen openden het vuur op burger gebieden in de Donbass en Donetsk.
Dit illustreert de dodelijke gevolgen van westerse wapentransporten naar Oekraïne; deze wapens worden gebruikt om burgers te doden en te verminken. In hetzelfde rapport werd opgemerkt dat: "de terreurbombardementen begonnen ongeveer 10 dagen geleden opnieuw op Donetsk en de steden Donbass", en dat Oekraïners nu "elke dag vuren op de steden Donbass, vooral op Donetsk, Gorlovka, Makeevka en Yaccinovataya. Gisteren (6 juni) alleen al werden 7 mensen gedood en 16 gewond en het moorden gaat door. '
Het rapport vervolgde: "sommige granaten waren afgevuurd door Amerikaanse M777 houwitsers," die waren geleverd als onderdeel van de wapenpijplijn van de regering-Biden.
De granaten, zo werd gespecificeerd, richten weinig materiële schade aan wanneer ze op straat of in de open lucht landen, maar zijn verwoestend wanneer ze een gebouw raken, omdat ze de echte capaciteit hebben door hun pantserdoorborende karakter structuren beter binnendringen, met de verwoesting die je je kunt voorstellen.
De auteur van het rapport verklaarde dat hij nog nooit had gehoord dat dergelijke munitie in het verleden in burgergebieden van de Donbass werd gebruikt; dus wat we zien is een nieuwe en meer dodelijke fase van het conflict daar. De Oekraïense president Volodymyr Zelensky zelf zei in een zeer recente verklaring dat Donbass een ruïne zou zijn en dat het "verlaten" zou zijn, waarmee hij afleidde dat mensen zullen worden gedood voordat deze oorlog is beëindigd.
De westerse media geven de Russen de schuld van alle verwoestingen, terwijl Oekraïne duidelijk voorop loopt–met hulp van zijn vrienden in het Westen.
---
CovertAction Magazine wordt mogelijk gemaakt door abonnementen, orders en donaties van lezers zoals jij.
Wanneer u doneert aan CovertAction Magazine, ondersteunt u onderzoeksjournalistiek. Uw bijdragen gaan rechtstreeks naar het ondersteunen van de ontwikkeling, productie, redactie en verspreiding van het tijdschrift.
CovertAction Magazine ontvangt geen bedrijfs- of overheidssponsoring. Toch zijn we vastbesloten om compensatie te bieden voor schrijvers, redactionele en technische ondersteuning. Uw steun helpt deze vergoeding te vergemakkelijken en het kaliber van dit werk te vergroten.
Maak een donatie door op het donatielogo hierboven te klikken en voer het bedrag en uw creditcard- of bankpasgegevens in.
CovertAction Institute, Inc. (CAI) is een 501(c)(3) non-profitorganisatie en uw gift is fiscaal aftrekbaar voor federale inkomstendoeleinden. Het belastingvrije ID-nummer van CAI is 87-2461683.
Wij danken u hartelijk voor uw steun.
---
Disclaimer: De inhoud van dit artikel is uitsluitend de verantwoordelijkheid van de auteur(s). CovertAction Institute, Inc. (CAI), inclusief de raad van bestuur (BD), redactieraad (EB), adviesraad (AB), personeel, vrijwilligers en haar projecten (inclusief CovertAction Magazine) zijn niet verantwoordelijk voor eventuele onnauwkeurige of onjuiste verklaringen in dit artikel. Dit artikel geeft ook niet noodzakelijk de opvattingen weer van de BD, de EB, de AB, personeel, vrijwilligers of leden van haar projecten.
Verschillende standpunten: CAM publiceert artikelen met verschillende gezichtspunten in een poging een levendig debat en doordachte kritische analyse te voeden. Voel je vrij om commentaar te geven op de artikelen in het commentaargedeelte en/of je brieven te sturen naar de Editors, die we zullen publiceren in de kolom Brieven.
Auteursrechtelijk beschermd materiaal: Deze website kan auteursrechtelijk beschermd materiaal bevatten waarvan het gebruik niet altijd specifiek is toegestaan ​​door de eigenaar van het auteursrecht. Als liefdadigheidsorganisatie zonder winstoogmerk, opgericht in de staat New York, stellen we dergelijk materiaal beschikbaar in een poging het begrip van de problemen van de mensheid te vergroten en hopelijk te helpen bij het vinden van oplossingen voor die problemen. Wij zijn van mening dat dit een 'redelijk gebruik' is van dergelijk auteursrechtelijk beschermd materiaal zoals bepaald in sectie 107 van de Amerikaanse auteursrechtwet. U kunt meer lezen over 'redelijk gebruik' en de Amerikaanse auteursrechtwet aan het Legal Information Institute van de Cornell Law School.
Opnieuw publiceren: CovertAction Magazine (CAM) verleent toestemming om CAM-artikelen te cross-posten op internetsites van non-profitorganisaties, zolang de bron wordt vermeld samen met een hyperlink naar het origineel CovertAction Magazine artikel. Laat het ons ook weten op info@CovertActionMagazine.com. Voor publicatie van CAM-artikelen in gedrukte of andere vormen, inclusief commerciële internetsites, kunt u contact opnemen met: info@CovertActionMagazine.com.
Door deze site te gebruiken, gaat u akkoord met deze voorwaarden hierboven.
---
Over de auteur
Sonja is een freelance journalist uit Nederland die onder andere over Syrië, het Midden-Oosten en Rusland heeft geschreven.
Sonja is te bereiken op: sonjavandenende@gmail.com.