Read Time:
9 Minute, 31 Second
DONEER EN STEUN ONS WERK
DONATE AND SUPPORT US:
IBAN: NL10 SNSB 0902 6349 33

Eindelijk komt het aan het licht, het nep-nieuws van de gevestigde media, die een spreekbuis zijn van diverse politieke partijen.In het verleden heb ik er al over bericht, het nepnieuws van de NOS,waar zij terroristen aan het woord laten en hen als "rebellen",in Syrië beschouwen. De bron van het NOS nieuws en de politiek het SOHR (Syrian Observatorium for Human Rights), één man in Coventry – Rami AbdulRahman, een moslim broeder en later Al-Queda aanhanger, die vanuit zijn luie stoel in in Coventry gebruikt werd als bron voor al het nieuws uit Syrië en de bevolking trapte er zeven jaar lang in, in deze horror-sprookjes.

De bron van het westen, deze man was dagelijks 7 jaar lang in het nieuws, NRC, NU, NOS en alle andere zogenaamde kwaliteitkranten, die nu moord en brand schreeuwen, omdat de "oorlog" in Syrië verloren is en de wapenindustrie verlies draait, ook de Nederlandse politiek heeft verloren, maar dat betekent nog niet dat "wij" het vergeten zijn, zij zullen op een dag zich moeten verantwoorden voor hun misdaden tegen de menselijkheid in Syrië!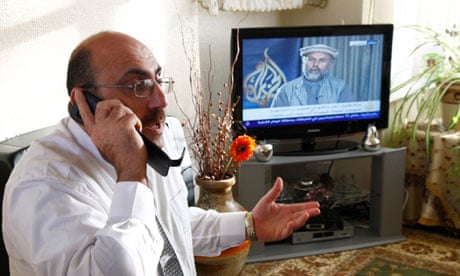 Deze vond ik zelf het meest "erge", omdat het direct een vermoorde Nederlandse journalist betrof: https://freesuriyah.eu/?p=524
Brief aan de Politiek en Media – Terrorist te zien in het journaal als zijnde dokter – heeft de vermoorde Jeroen Oerlemans gekidnapped
Beste Politiek en NPO media,
Ik en met mij vele anderen, zijn echt het vertrouwen in de politiek en media kwijt. Het is echt ernstig, deze leugens of domheid.

De gifgasaanval op Idlib, waar direct de vinger naar Assad en Poetin werd gewezen, is of "fake" of nog erger, de chemische wapens lagen gewoon daar opgeslagen, door de rebellen, die ik maar weer eens terroristen noem!

Nu hebben we de "harde" bewijzen, de dokter die in beeld kwam bij het 6 en 8 uur journaal is Shahul Islam. Lekkere jongen, aangeklaagd wegens terrorisme in het VK, hij zou namelijk medeplichtig zijn aan de moord (onthoofding) van James Foley, de journalist, weten jullie nog?
Daarnaast heeft hij, de in Libië vermoorde, Jeroen Oerlemans, in 2013, Oerlemans werd samen met zijn Britse collega John Cantlie gekidnapped door Sjahul en zijn broer Najuh, die allebei geradicaliseerd zijn en eerst in Aleppo (oost) bij Al-Queda, Al-Nusra en later ISIS waren aangesloten, daar vele onschuldige burgers vermoord hebben en hen als "menselijk schild" gebruikt hebben. Deze worden als dokter op nota bene het 6 en 8 uur journaal getoond als zijnde dokters die Assad en Poetin beschuldigen van een gifgas aanval!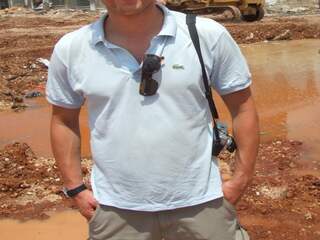 Hieronder nog wat links, over wat ik eerder schreef over nep-nieuws in Nederland:
https://freesuriyah.wordpress.com/2016/12/04/de-fakemedia-en-de-oorlog-in-syrie/
De propaganda van de "westerse reguliere"media, die nu al 6 jaar duurt, over het Syrië conflict, sterft langzaam een zekere pijnlijke dood. Aleppo is bijna gevallen en veel leugens kunnen er niet meer vertelt worden, af en toe een reportage over een "verdwaalde"Syrische danser, die asiel gekregen heeft, zijn de laatste strohalmen van een "westerse leugen"die aan zijn einde gekomen is.
De Syrisch-Jordaanse grens stad Daraa op 17 maart 2011 was de plaats waar de eerste uitbarsting van geweld begon:
De media schilderde ten onrechte, het geweld af, als een volksopstand tegen Assad, die vervolgens op brute wijze werd onderdrukt door regeringstroepen het moest een voortzetting zijn van de revoluties (de meeste waren "regime changes" gemaakt door George Soros en zijn geld) die door grote delen van de Arabische wereld leken te verspreiden, in de maanden die eraan voorafgingen. Echter, het aantal politieagenten die waren gedood (zeven) was meer dan het aantal demonstranten gedood (vier). Dit is nauwelijks een indicatie van het brute optreden van een regering die de opzet heeft om zijn eigen bevolking te onderdrukken.
https://freesuriyah.eu/?p=1457 Nepnieuws uit Idlib – Idlib is bezet door terroristen !
https://freesuriyah.eu/?p=2655 De zionisten en deep-state draaien op "volle"toeren !
https://freesuriyah.eu/?p=1285 De Nederlandse "Russiagate"gaat verder
Dit is zomaar een greep, over wat ik afgelopen jaren over "nepnieuws"geschreven heb, het toont de absurditeit aan van deze westerse maatschappij, haar uitwassen en de grove leugens, waarvan miljoenen mensen op de wereld de dupe zijn, er worden beschuldigingen geuit, zonder bewijzen, alleen om oorlog te voeren en het Kalgeri plan en de plannen van de "deep-state", uit te voeren, over de lijken van miljoenen mensen!
Nu is er een schandaal ontstaan nadat er eindelijk een medewerker (journalist is een verkeerde benaming) aan de bel trok bij "der Spiegel", sowieso de sensatiekrant van Duitsland. Claas Relotius, die allerlei ingewikkelde prijzen gewonnen heeft, verzonnen door dezelfe "leugenkranten", heeft 7 jaar lang nepnieuws geschreven, m.n. over Syrië.
Het is teveel om er allemaal uitgebreid over te berichten hieronder een greep uit zijn "nep" nieuwsberichten:
European Purgatory: Migrant Smugglers Helping Refugees Return to Turkey (06/30/2016)
'We'll Be Back': Islamic State Losses Could Fuel Sectarian Warfare (06/23/2016)
Unimaginable Horrors: The War-Crimes Lawyer Hunting Syrian War Criminals (06/06/2016)
'Waiting for the World': An Interview with One of Aleppo's Last Doctors (05/25/2016)
Deze is vind ik persoonlijk, het ergste, hij heeft namelijk geld opgehaald, om zo deze "nepkinderen"te ondersteunen: http://www.spiegel.de/international/world/refugees-syrian-orphans-toil-away-in-factories-in-turkey-a-1102610.html
Maar we wisten vanaf het begin, zo ook diverse Nederlandse politici, die ik niet bij naam ga noemen, dat de zogenaamde revolutie in Syrië, een vooropgezet plan van de VS, i.s.m. met haar bondgenoten de EU/NATO was, net als Libië, Irak, Joegoslavië en Afghanistan. Echter by Syrië ging het mis en nu zitten deze "lieden"met de gebakken peren, een onderschatting van het Syrische volk, die niet opgegeven heeft!
Ook de witte helmen was een "doorzichtig" plan van de westerse criminele regeringen, een ordinaire troep criminelen, die zelfs aan orgaanhandel deed, is nu bewezen in onderstaande video van het Russische VN onderzoek.
Bron:http://www.spiegel.de/international/world/refugees-syrian-orphans-toil-away-in-factories-in-turkey-a-1102610-2.html, Freesuriyah, NOS, NRC